Gay Marriage Gains Ground as High Court's Silence Speaks
Greg Stohr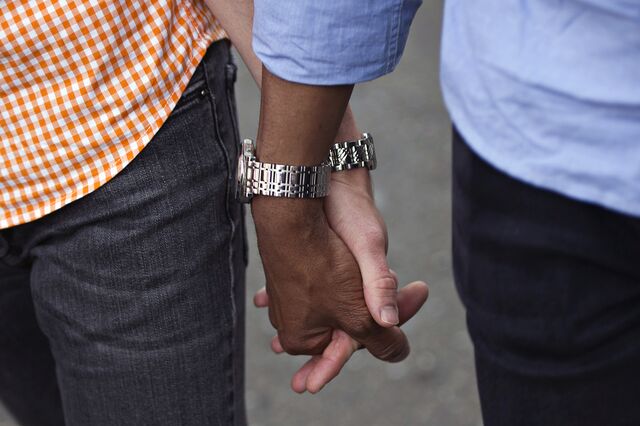 The U.S. Supreme Court didn't need to say a word about gay marriage to make it a reality in much of the country.
Spurning calls from both sides of the debate, the justices yesterday rejected seven appeals without comment and cleared the way for gay weddings in as many as 11 new states. That would raise the number of states with same-sex marriage to 30, plus the District of Columbia. About 60 percent of Americans will live in a gay-marriage jurisdiction.
While the high court stopped short of the broader ruling sought by gay-rights advocates, it reinforced the perception that same-sex marriage nationwide is inevitable. After letting decisions legalizing gay weddings take effect, the justices may now be hard-pressed to say those appeals courts were wrong.
"At least five justices must think that there is a clear constitutional right here," said Michael Dorf, a constitutional law professor at Cornell University Law School. Otherwise, "it would be utterly irresponsible to allow the appeals court rulings to go forward and for thousands of people to get married on the basis of that, only to take away the right and leave thousands of couples in limbo."
The high court's action sent gay couples streaming to courthouses around the country. Couples who had left for work thinking a legally recognized wedding a distant possibility were lining up for marriage licenses.
Recognizing Marriages
Utah Governor Gary Herbert, a Republican, sent a memo to state agencies ordering them "to conduct business today and going forward, recognizing all legally performed same-sex marriages." Virginia Attorney General Mark Herring instructed county clerks to begin issuing marriage licenses to gay couples within hours.
"Limbo for these couples is over," said Marion County Clerk Beth White as she announced permits would be issued immediately for gay weddings in Indianapolis. "They can expect nothing but dignity and respect from our marriage license staff when they arrive."
Jennifer Melsop and Erika Turner, both 26, each held a single red rose as they were married in front of the county courthouse in Arlington, Virginia, by a Unitarian minister. Melsop teared up as they exchanged vows.
Though the two had planned to be married next August, outside Virginia if necessary, they headed to the courthouse when they heard the news.
'Not Everybody'
"We couldn't pass up the opportunity to get married in our own state," Turner told about two-dozen reporters who watched the ceremony.
Diane Ullius, 67, and Rhonda Buckner, 63, arrived at the courthouse to revel at legal recognition for their wedding, performed eight years ago in Toronto.
"It's about time," Ullius said. "What this day means is that equality is finally recognized."
Colorado Attorney General John Suthers told the state's 64 county clerks to prepare to issue same-sex marriage licenses once courts have formally cleared the way. Wisconsin Attorney General J.B. Van Hollen said, "it is now our obligation" to comply with rulings legalizing gay marriage there.
Those weddings -- and thousands more sure to take place in the coming days -- will weave gay marriage into the fabric of states that hadn't previously recognized those unions.
Oklahoma also began issuing same-sex marriage licenses yesterday. Wyoming, Kansas, West Virginia, North Carolina and South Carolina may soon follow because they are under the jurisdiction of the three federal appeals courts whose rulings the Supreme Court left intact.
'Clear Signal'
"The Supreme Court sent a very clear signal here that it has no problem with allowing same-sex couples to marry," said Jon Davidson, national legal director for Lambda Legal, which backs marriage rights.
The high court's refusal to get involved defied predictions from advocates and legal experts. The court suggested support for gay marriage last year when it invalidated part of a federal law that denied benefits to legally married same-sex partners.
That ruling led to dozens of victories for gay-marriage advocates in the lower courts, while building expectations that the Supreme Court would soon take the final step.
The high court accepts a case for review only if at least four of the nine justices vote to hear it. As is its usual practice, the court didn't say how the individual justices voted on the marriage appeals.
The rejection drew criticism from opponents of gay marriage.
'Utter Lawlessness'
"The notion that the Supreme Court would sit on the sidelines without having anything to say about it is bizarre," said John Eastman, chairman of the National Organization for Marriage. The court's action is "indicative of the utter lawlessness by which all of these cases have proceeded."
The high court almost certainly will have other opportunities to take up gay marriage, perhaps even in the nine-month term that started yesterday. Two other federal appeals courts are considering the issue and could rule at any time.
One set of cases -- at the Cincinnati-based 6th U.S. Circuit Court of Appeals -- offers at least the prospect of a victory for opponents. Arguments in August suggested that two members of a three-judge panel were considering upholding marriage bans in Michigan and Kentucky.
Should that court rule that the Constitution doesn't guarantee gays can wed, the Supreme Court would almost certainly have to intervene to resolve the appeals court disagreement.
Shift Course
The difficulty for opponents is that they would then have to persuade the Supreme Court to shift course and call into question the very marriages the justices allowed with yesterday's action. The upshot would be "chaos" over the legal status of those marriages, said Steven Fitschen, president of the National Legal Foundation and an opponent of same-sex marriage.
That prospect is one reason many legal observers say yesterday's action reinforces the likelihood that the court eventually will legalize gay marriage nationwide.
"Everyone sees the handwriting on the wall," said Steve Sanders, a constitutional law professor at Indiana University's Maurer School of Law. "Inevitably, the Supreme Court is going to give us same-sex marriage."
Before it's here, it's on the Bloomberg Terminal.
LEARN MORE