Federal Appeals Court Strikes Down Gay Marriage Bans in Idaho and Nevada
By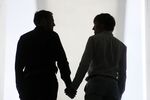 The 9th Circuit Court of Appeals struck down gay marriage bans in Idaho and Nevada Tuesday, ruling that the statutes violated gay couples' equal protection rights.
The latest court ruling to nullify anti-gay marriage laws comes just  one day after the Supreme Court of the United States allowed lower jurisdiction rulings to stand, effectively legalizing same-sex marriage in 11 more states. With Tuesday's ruling, gay marriage is now legal in 32 states nationwide. 
Writing the unanimous opinion of the three-member court, Judge Stephen Reinhardt described the patchwork of laws on gay marriage as harmful. 
"Idaho and Nevada's marriage laws, by preventing same-sex couples from marrying and refusing to recognize same-sex marriages celebrated elsewhere, impose profound legal, financial, social and psychic harms on numerous citizens of those states," Reinhardt wrote.
Moreover, the court rejected the notion that same-sex unions negatively impact traditional marriage, or leads to a higher rate of out-of-wedlock childbirth. 
"This proposition reflects a crass and callous view of parental love and the parental bond that is not worthy of response. We reject it out of hand," the court's decision stated.