Dudley's Dollar Anxiety Seen in California Walnuts
Andrea Wong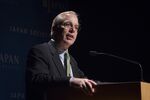 For Don Barton, the dollar's decade-long slide enabled his family's 102-year-old walnut orchard in California to attract buyers from Japan to Turkey. Now, the currency's rebound is starting to threaten exporters like him.
"As the dollar weakened over the past nine, 10 years, it certainly opened doors to expedite our ability to develop these export markets," Barton, the 57-year-old president of GoldRiver Orchards Inc. in Escalon, California, said in a Sept. 23 phone interview. "If this rising dollar continues into the rest of the year and into 2015, we'll be seeing reduced demand from these overseas markets."
The dollar's advance this year against 29 of its 31 major peers isn't only affecting smaller exporters like Barton. Companies from Tiffany & Co. to Harley-Davidson Inc. are having to deal with an advance of 6.4 percent in the Bloomberg Dollar Spot Index since the end of June.
The greenback is appreciating amid speculation the Federal Reserve is preparing to raise interest rates from a record-low range of zero to 0.25 percent. Strategists see the dollar's gains continuing as the economies of Japan and the euro area struggle to expand. Median forecasts in Bloomberg surveys show increases versus the yen and euro through the end of 2015.
Hipster Jeans
Dollar strength is causing concern among U.S. policy makers. A fast-rising currency may stymie efforts to spur growth and boost inflation, Fed Bank of New York President William C. Dudley said last month.
His Chicago colleague Charles Evans said the central bank must monitor the currency's effects on exports and economic growth, while Atlanta's Dennis Lockhart said the dollar's appreciation may "dampen export activities in coming months."
An unexpected 10 percent advance may cut gross domestic product by 0.5 percentage point, according to Morgan Stanley. JPMorgan Chase & Co. estimated at the end of September that the 4 percent appreciation in the trade-weighted dollar during the previous two months would reduce growth by 0.3 to 0.4 percentage point in the next year.
Either would be a big chunk for an economy forecast to expand just 2.1 percent this year, based on the median estimate of 80 economists surveyed by Bloomberg.
Dollar Outlook
"We have arrived rather quickly at the point where the dollar is apt to become a factor impacting Fed policy," Alan Ruskin, the global head of Group of 10 foreign exchange at Deutsche Bank AG in New York, wrote in an e-mail on Oct. 2.
Deutsche Bank sees the dollar strengthening to $1.25 per euro by year-end, and to $1.15 in 2015, from $1.2645 at 2:01 p.m. in New York. It predicts the greenback will appreciate to 120 yen in 2015, from 108.57 today.
If the Fed decides to delay rate increases because of the dollar's strength, "it could at the margin temper the dollar bull run, but certainly won't upend it, given the extent to which policy will still diverge in favor of the dollar versus the euro and the yen over the next three years," Ruskin said.
The Bloomberg Dollar Spot Index, which measures the U.S. currency against those of 10 leading trade partners, climbed to 1,080.05 on Oct. 3, the highest since June 2010, before slipping back to 1,067.77 today.
Blue Collar
In Shawnee, Oklahoma, the 111-year-old denim work-wear maker Round House already sees sales to Japan, its biggest overseas market, declining. The dollar advanced to 110.09 per yen on Oct. 1, the strongest since August 2008.
"Japanese people like the authentic work-wear jeans, big overalls, the type of jeans you'd see union, blue-collar guys wear -- they get sold in Shibuya, Tokyo," David Antosh, a vice president at Round House, said in a phone interview. "The weakness of the yen has definitely hurt. At least 5 percent of the decline in sales is attributed to the fall in the yen."
A trade-weighted index from the Fed with a start date of 1973 shows the dollar is still relatively cheap. The most recent reading for that measure was 81.8405 on Oct. 3, below the 113 level reached in early 2002 and the 148 mark in 1985.
Even as the greenback soared in August, U.S. exports climbed to a record $198.5 billion, and the trade deficit shrank to a seven-month low of $40.1 billion, the Commerce Department said Oct. 3.
Rising Exports
Exports accounted for 1.4 percent of GDP in the second quarter, the most since the end of 2010. President Barack Obama set a goal of doubling exports as the U.S. recovers from the biggest recession since the Great Depression.
When the dollar depreciated to $1.3993 per euro in May, the weakest level since late 2011, and depreciated that quarter against the British pound, New York-based luxury jewelry retailer Tiffany said sales surged 8 percent in the region.
At Harley Davidson, the 18-nation euro's ascent that quarter resulted in a $17.2 million "favorable" currency exchange for the Milwaukee-based manufacturer of motorcycles famous for their roaring throttles.
Spokesmen for Tiffany and Harley didn't immediately respond to e-mails seeking comment.
Barton, the walnut farmer, is counting on an improving local economy to help offset falling overseas demand as harvest time arrives. More than 80 percent of GoldRiver Orchards' products are exported, he said.
'Nimble' Marketing
The price of California walnuts rose to a record $3,650 per ton in 2013, up from $3,030 in 2012, according to Department of Agriculture data.
"We'll need to turn our attention more to the domestic market," Barton said. "We'll have to be a bit more nimble on our marketing approach. We have a network of field brokers for domestic sales. We'll go back to some of them, letting them know we're looking for additional buyers.
For Round House, its classic denim overalls which appeared in television series such as ''How I Met Your Mother" and "Friends" is due for a redesign to combat the shrinking demand from Japanese customers.
"Part of our strategy has been coming up with new products, with different looks for Japan," Antosh said. "Because prices are going to be higher for costumers, we try to give them some new products, better qualities, better concepts to appeal to them."
Before it's here, it's on the Bloomberg Terminal.
LEARN MORE