Bill Clinton Cries 'Woo-Pig-Sooie' for Arkansas Democrats
The former professor reiterates that the midterm elections shouldn't be all about President Obama.
By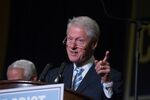 If there's one thing that Professor Bill Clinton knows how to do, it's connect with students. On Day Two of the former president's blitz of his former home state, Clinton helped lead 6,000 people at the University of Arkansas in the school's trademark "Woo-Pig-Sooie" cheer before reiterating his pitch that the mostly college-age crowd shouldn't be fooled by GOP attempts to make the mid-term election a referendum on President Obama.