Biden Urges $10.10 National Minimum Wage as Poverty Check
James Nash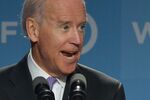 Vice President Joe Biden used an appearance in Los Angeles, where the mayor is backing a local minimum wage of $13.25, to call on congressional Republicans to lift their opposition to a $10.10 national minimum.
A higher minimum wage would lift 28 million Americans out of poverty, Biden said during a joint appearance in Los Angeles with Mayor Eric Garcetti. Biden said some Republicans once supported higher wage standards as a gateway to the middle class.
Cities are acting because Congress has refused to raise the U.S. minimum from $7.25, where it has stood since 2009, Biden said.
"This used to be a bipartisan issue," Biden said. "This isn't complicated. No one in America should be working 40 hours a week and living below the poverty level."
Garcetti, a 43-year-old Democrat, said last month that he'd move to raise Los Angeles's minimum wage in phases, above the current $9 which is California's minimum. Workers in the most-populous U.S. state will be paid at least $10 an hour in 2016 under a bill signed last year by Governor Jerry Brown.
Garcetti's call for a $13.25 citywide minimum wage has drawn opposition from business groups and labor unions. The Los Angeles Area Chamber of Commerce said it needs to be evaluated as part of a larger economic-development strategy. Labor groups are circulating a petition for an election next year to raise the rate to $15.
"Too many people can't live the American dream of working hard and supporting their families," Garcetti said at the event with Biden at a downtown Los Angeles bakery.
Bill Shelved
As of August, 23 states and the District of Columbia have minimum wages above the federal limit, according to the National Conference of State Legislatures. Thirty-four states considered increases during the 2014 legislative session, while 10 states and D.C. raised their rates, the conference reported.
Biden and President Barack Obama have urged Congress to raise the federal wage floor without success. In April, the Senate shelved a bill to establish a $10.10 minimum after Democrats failed to muster 60 votes to overcome a Republican filibuster. Senator Dan Coats of Indiana, the senior Republican on the Joint Economic Committee, said a higher minimum wage would put as many as 1 million Americans out of work.
"Raising the minimum wage will fail to alleviate poverty because it will fail to address unemployed or underemployed American workers," Coats said in a statement in April.