Argentina Bondholders Unnerved as Kicillof Amasses Power
Daniel Cancel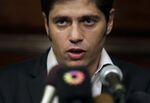 Economy Minister Axel Kicillof spent eight months repairing Argentina's ties with international markets, only to have the nation default in July when he refused to compromise with creditors to resolve its unpaid debts.
Now, he's taking a decidedly different tack.
Instead of conciliation, the 43-year-old Kicillof has engaged in a campaign to weed out the administration's opponents and tighten the government's grip on the economy. Since the default, the minister has denounced businessmen and farmers for hoarding everything from cars to soybeans to spur a devaluation. On Sept. 30, his comments were echoed by President Cristina Fernandez de Kirchner when she publicly reprimanded central bank President Juan Carlos Fabrega for failing to rein in currency manipulation. He resigned the next day.
While Kicillof's influence has only increased as a series of cabinet changes swept political allies into power, the bond market has grown increasingly alarmed at the about-face. Faced with the prospect Kicillof will allow the decade-long creditor dispute to sink the economy deeper into recession and pursue policies that will further its financial isolation, Argentina's debt securities suffered their biggest losses in seven weeks.
"The price action reflects a concerning trend on the direction of economic policy," Jorge Mariscal, the chief investment officer for emerging markets at UBS Wealth Management, said by telephone from New York. "The consolidation of power under Kicillof is a consolidation of the wrong way to manage the economy. You had a voice of dissent in the central bank before and that's gone."
Bond Losses
Jesica Rey, the Economy Ministry's spokeswoman, didn't respond to an e-mail seeking comment on Kicillof's policies or the government's recent appointments.
Government bonds due in 2024 have tumbled 6.3 percent since Fabrega resigned Oct. 1 to 84.7 cents on the dollar, data compiled by Bloomberg show. In comparison, emerging-market debt lost 0.5 percent on average during the period.
Argentine bond yields fell to the lowest since 2011 in July on speculation Kicillof would settle with a group of holdout creditors to avert default.
Before then, he negotiated a $5 billion payment to Repsol SA to compensate the company for a 2012 takeover that he helped engineer. He also overhauled government statistics at the request of the International Monetary Fund and agreed to pay the Paris Club $9.7 billion of overdue debt.
Cabinet Changes
A day after Fabrega's replacement, Alejandro Vanoli, was installed Oct. 2, Cristian Girard was named chief regulator and Pedro Biscay was appointed central bank director as well as deputy bank regulator. Biscay, who previously investigated financial crimes, called for a public heckling of former Economy Minister Domingo Cavallo in a Twitter post on Aug. 17, days before Cavallo was pelted with eggs at an event.
German Feldman, who had worked at the Economy Ministry while Kicillof when was deputy minister, was named chief bank regulator.
"These appointments suggest that Axel Kicillof continues to gain influence within the government," Fernando Diaz, a Buenos Aires-based economist at Citigroup Inc., wrote in an Oct. 3 research report. "The government will likely increase its regulatory efforts as a way to stop the economic deterioration."
Fabrega had helped to earn investors' trust during his 10-month stint by devaluing the peso and raising interest rates to the highest in a decade earlier this year to stem a plunge in reserves.
Economic Contraction
The cabinet changes come as South America's second-biggest economy slides deeper into recession after the country was prevented from making debt payments July 30. In the two months since the default, the peso has plunged to a record low in the black market where Argentines turn to sidestep currency controls and the country's reserves have fallen $1.1 billion to $27.7 billion, the lowest since April. Imports shrank 20 percent in August from a year earlier while industrial production contracted 2.9 percent year-on-year.
In July, Kicillof met at least twice in face-to-face meetings in New York with representatives of hedge funds led by Paul Singer's Elliott Management Corp., who sued for better terms than creditors had received in previous restructurings and won full payment.
That failed attempt to strike a deal came after Kicillof negotiated the Repsol payment and settled with the Paris Club of nations. The moves were part of an effort to regain access to overseas capital markets for the first time since 2001.
'Clear Shift'
Sebastian Vargas, an economist at Barclays Plc, said the selloff in Argentine debt in the past week has been overdone.
"While we agree that the economy is likely to deteriorate further, we disagree that Fabrega would have made much difference," he said in an Oct. 3 note.
The extra yield investors demand to hold Argentine debt over U.S. Treasuries widened 0.13 percentage point to 7.64 percentage points at 2:20 p.m. in Buenos Aires, according to JPMorgan Chase & Co.'s EMBIG Diversified index.
One day before Fabrega's resignation, President Cristina Fernandez de Kirchner said in a speech in Buenos Aires that the central bank was being too permissive of illegal currency transactions and accused private businessmen of trying to overthrow her government with foreign help. The country's bonds tumbled 3.4 percent on average the next day.
"There has been a clear shift back to populism," Siobhan Morden, the head of strategy for Latin America at Jefferies Group LLC, said in an Oct. 3 note. "It's clear that the cabinet reshuffle intends to consolidate support behind the Economy Ministry."
Before it's here, it's on the Bloomberg Terminal.
LEARN MORE