Airbus to Cut Dassault Stake as Jet Sales to Help Stock
Andrea Rothman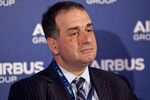 Airbus Group NV is preparing to reduce its stake in Dassault Aviation SA by almost half, selling shares to institutional investors and back to Dassault in a transaction valued at about 2 billion euros ($2.52 billion).
The European planemaker is exploring opportunities to sell because the U.S. economy, the largest driver of the business-jet market, is rebounding, suggesting demand for aircraft will pick up, Marwan Lahoud, the head of strategy at Airbus Group, said by phone yesterday. The Dassault family controls the company with a stake of about 55.5 percent.
"Our preferred route is to place some of the shares on the market and combine that with Dassault buying some of the shares," Lahoud said. "Dassault's a well-managed company and should be interesting to institutional investors who like corporate jets."
Airbus owns 46.3 percent of the French maker of Falcon luxury corporate planes and combat jets that it inherited via one of its predecessor companies more than a decade ago from the French government. Airbus and Dassault have not reaped synergies in working together and Airbus has held the shares as a financial investment until now, with the company saying in July that a sale would be just a question of timing.
Combat Aircraft
Dassault gets about 70 percent of sales from corporate jets, and the rest from combat aircraft including the Rafale. Airbus competes in war planes as part of its role in the Eurofighter Typhoon programs, which it co-produces with BAE Systems Plc and Finmeccanica SpA.
Dassault Aviation shareholders last month approved the purchase and cancellation of as much as 10 percent of total stock, at a maximum price of 1,200 euros a share. The company hasn't specified any date for purchasing the shares.
Airbus said it has hired Bank of America Corp., Goldman Sachs Group Inc. and Rothschild to assist with the sale.
Before it's here, it's on the Bloomberg Terminal.
LEARN MORE