Abe, Putin Agree to Summit Even as Sanctions Hurt Ties
Isabel Reynolds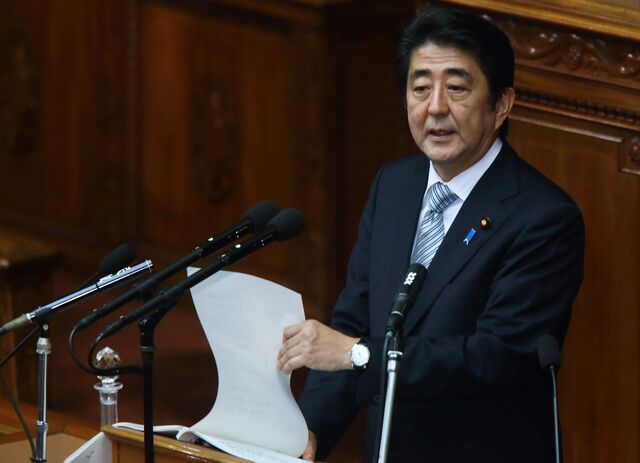 The leaders of Japan and Russia agreed to meet at an international gathering in November, even after diplomatic relations cooled last month when Japan imposed sanctions over the infiltration of Russian troops into Ukraine.
Prime Minister Shinzo Abe agreed in a phone call yesterday with President Vladimir Putin to hold a summit at the Asia-Pacific Economic Cooperation meeting in Beijing next month, according to a Japanese Foreign Ministry statement. The conversation on the occasion of Putin's 62nd birthday was the first between the two leaders since a call on Abe's birthday last month. The Kremlin press service said that Putin had a birthday talk with Abe, without mentioning the meeting.
The exchange of birthday greetings comes at a time when the two nations are embroiled in a territorial dispute, and Japan remains in step with the Group of Seven nations on sanctions against Russia over its role in the Ukraine conflict. Abe's government has been noncommittal on a planned visit by Putin this autumn.
"Neither side wants to bring a halt to relations," said Taisuke Abiru, research fellow at the Tokyo Foundation. "This could be one way to keep things going so that they can arrange the official visit at a later date, possibly in the spring."
Last month, Japan announced new sanctions on Russia, and lodged a protest after a senior official visited an island claimed by both nations. Japan is prepared to cancel or ease the sanctions if Russia makes a clear effort to seek a peaceful resolution of the crisis in Ukraine, Foreign Minister Fumio Kishida wrote in a statement on the ministry's website.
'Unfriendly Step'
Russia's foreign ministry said the sanctions were the latest "unfriendly step" and show "Japan's inability to form foreign policy independently."
Abe had been working to resolve the Cold War-era territorial differences and expand the supply of Russian energy to Japan. He is the first Japanese leader in a decade to make an official visit to Russia, and has met Putin five times, including a trip to the Sochi Olympics opening ceremony that was shunned by U.S. President Barack Obama.
Japan's policy on Russia has three pillars, Abiru said. "One is the territorial problem, another is energy post-Fukushima and the third is China."
Before it's here, it's on the Bloomberg Terminal.
LEARN MORE