pursuits
Drive-Thru Fast Food Is Getting Just a Little Bit Slower
By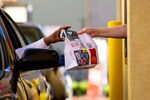 Fast food is still pretty fast, relative to actual cooking, but it's getting slower. This information comes courtesy of QSR, a trade magazine that in the past has published an entertaining annual study of just how fast fast-food drive-thrus really are, based on the time from when a customer orders to the time the food is ready. Last year, QSR found that the average speeds for Burger King, Chick-fil-A, McDonald's, Taco Bell, Wendy's, and Krystal had slowed by about 8 seconds, to 181 seconds, or about 3 minutes. Wendy's was the fastest, with a 134-second average. McDonald's had been getting slower every year, but it was still faster than Burger King.

This year, QSR and Insula Research expanded the group to 23 chains and broke down the data by time of day and menu category (burger, chicken, sandwich). It's more fun to see how the restaurants rank. But Sam Oches, the editor of QSR, says this year's results, out today, "shine new light on the industry as a whole so operators can see how they stack up to the competition."
Overall, fast food is still getting slower: The average speed from order to food was 203 seconds. (Time spent waiting to order doesn't count.) McDonald's has been trying to remedy this by adding double lanes in some places, paring its menu, and trying out a 1-minute guarantee in Florida this summer.

Anyone who uses the drive-thru for her afternoon snack gets fed the fastest, too (173 seconds). That makes sense, since the food they're most likely to order isn't too complicated to prepare. Breakfast is the second-fastest meal (175 seconds) and just a little less busy than lunch. Dinner is both the slowest (226 seconds) and the least busy time. This is also when people spend the most—which partly explains the slow sales at such chains as McDonald's.
Burgers are the fastest to prepare, and chicken comes next. Sandwiches take almost 4 minutes, on average, to serve. With any luck, this suggests that they're actually the freshest choice. It also suggests this is not what snackers are ordering.
Before it's here, it's on the Bloomberg Terminal.
LEARN MORE