politics
Gay Marriage Cleared in New States After Supreme Court Rebuff
Greg Stohr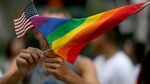 The U.S. Supreme Court cleared the way for gays to marry in 11 more states while leaving the issue in doubt elsewhere as the justices rejected calls for a nationwide ruling.
Advocates on both sides had urged the court to resolve the matter following a wave of lower court rulings that the U.S. Constitution guarantees same-sex marriage rights.
The justices instead gave proponents a more limited victory that will raise the number of gay-marriage states to 30, plus the District of Columbia. The high court left intact decisions from three federal appeals courts legalizing same-sex marriage in Utah, Oklahoma, Virginia, Wisconsin and Indiana. Those decisions can now take effect.
Gay-marriage supporters said six other states -- Colorado, Wyoming, Kansas, West Virginia, North Carolina and South Carolina -- will automatically follow because they fall under the jurisdiction of those appellate courts.
"In very short order we will see about 60 percent of the American people living in a freedom-to-marry state," said Evan Wolfson, president and founder of New York-based Freedom to Marry, one of the groups that urged the court to intervene and legalize same-sex marriage across the country. "It's a clear signal from the Supreme Court where all this is heading."
A few states moved immediately to begin issuing marriage licenses to gay couples, while others said they would do so as soon as courts handed down final orders.
Virginia Marriage
Erika Turner and Jennifer Melsop, both 26, were the first same-sex couple to get a license in Arlington, Virginia, outside Washington. About a half-hour later, they were married in front of the courthouse, each holding a red rose.
"Not everybody in the United States has this opportunity," said Turner. She said the two had planned to be married in August 2015, in another state if necessary, but that they headed to the courthouse when they heard the news.
The ceremony was performed by Linda Olson Peebles, a minister at the Unitarian Universalist Church of Arlington, who went to the courthouse in hopes of officiating at a wedding. She had presided over same-sex ceremonies, though never a legally recognized marriage in her home state.
"I'm just thrilled," Peebles said. "Finally, I will be able to sign that license."
'Nothing Preventing'
In Wisconsin, Milwaukee County Clerk of Courts Joseph Czarnezki said his office would immediately begin issuing marriage licenses to gay couples. "There is nothing preventing us from proceeding," Czarnezki said.
In Denver, a federal appeals court handed down orders formally clearing marriage to begin in Utah and Oklahoma. Colorado Attorney General John Suthers said he ordered county clerks to prepare to issue same-sex marriage licenses.
Marion County, the largest in Indiana, began giving marriage licenses to gay couples shortly after the court's action, said Erin Kelley, director of communications for the office.
Indiana Attorney General Greg Zoeller said it was "unfortunate" that the Supreme Court didn't agree to decide on gay marriage and "has again left states stuck in the limbo of uncertainty."
In other parts of the country, same-sex couples will have to wait for additional court rulings. Federal appeals courts based in San Francisco and Cincinnati have heard arguments and could rule any time. Cases elsewhere are at the trial court level.
New Term
The high court's action today leaves open the possibility that the justices might get involved after one or both of the appeals courts rule. That might even permit a decision before the court's new term ends in late June.
Today's rejection defied predictions from advocates and legal experts. The Supreme Court suggested support for gay marriage last year when it invalidated part of a federal law that denied benefits to legally married same-sex partners. That ruling led to dozens of victories for gay-marriage advocates in the lower courts, while building expectations that the Supreme Court would soon take the final step.
The Supreme Court accepts a case for review only if at least four of the nine justices vote to hear it. As is its usual practice, the court today didn't say how the individual justices voted on the marriage appeals.
'Utter Lawlessness'
"The notion that the Supreme Court would sit on the sidelines without having anything to say about it is bizarre," said John Eastman, chairman of the National Organization for Marriage, which opposes same-sex nuptials. Today's action is "indicative of the utter lawlessness by which all of these cases have proceeded."
The justices rejected the appeals as part of a list of orders released in Washington as they formally opened their 2014-15 term.
One of the few hints that the court might not be ready to take up same-sex marriage came last month from Justice Ruth Bader Ginsburg. Speaking at the University of Minnesota Law School, Ginsburg pointed to the absence of disagreement among the three federal appeals courts to have ruled on the matter.
She told the audience to watch for an expected ruling from the 6th U.S. Circuit Court of Appeals, which covers Michigan, Ohio, Kentucky and Tennessee. Should that court also back gay marriage, there will be "no need for us to rush," she said, according to an Associated Press story at the time.
Major Victory
Although gay-marriage advocates had sought a nationwide ruling, they hailed the rejection as a major victory.
"This is an extraordinarily exciting and extremely gratifying moment," said Theodore Olson, a Washington lawyer who argued at the Supreme Court in favor of gay marriage in a California case last year and now represents couples seeking to wed in Virginia.
"It's an amazing watershed moment for the entire country," said James Esseks, director of the ACLU Lesbian Gay Bisexual Transgender & AIDS Project. "It means that we get marriage on the ground in so many more states right away, and that means a real, concrete, tangible, enormously important change in the lives of people."
Wolfson said he was surprised by the rejection.
"After 40-plus state and federal court rulings in favor of the freedom to marry and 59 percent of the people in favor of the freedom to marry, what is the Supreme Court waiting for?" he asked in an interview.
The Utah case is Herbert v. Kitchen, 14-124. The Oklahoma case is Smith v. Bishop, 14-136. The Indiana case is Bogan v. Baskin, 14-277. The Wisconsin case is Walker v. Wolf, 14-287. The Virginia cases are Rainey v. Bostic, 14-277; McQuigg v. Bostic, 14-251; and Schaefer v. Bostic, 14-225.
(Updates with marriage in Virginia starting in seventh paragraph.)
Before it's here, it's on the Bloomberg Terminal.
LEARN MORE