Hail! to the Marketers Valiant: The Trouble With Michigan Football
by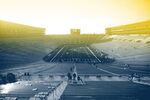 My earliest memory of University of Michigan football is from 1969, when I was 12. I sat in front of the family TV, watching teary-eyed tight end Jim Mandich being carried off the field as the Wolverines upset top-ranked Ohio State, the defending national champs. After the game, I went out to my suburban Detroit backyard to play football with my pals, pretending I was tailback Billy Taylor, No. 42.
Kids growing up in Michigan choose between U of M and Michigan State. I went with the maize-and-blue. I loved those throwback helmets, the Hail to the Victors fight song, the team bursting from the tunnel of that enormous, unadorned stadium. I suffered through blown field goals and crushing yearend losses. I learned to hate Ohio State and Southern Cal.
It was the beginning of a lifelong passion for college football. Even as I shifted loyalties while attending the University of Notre Dame, I remained a begrudging admirer of Meeeechigan. I'd tell buddies that if the Fighting Irish had to go 1-11, I could endure it so long as that sole win came against our opponents to the northeast. Because, to me, Michigan signified all that was simple and wonderful about the college game.

So I take no pleasure (OK, hardly any) in asking: What the hell is going on in Ann Arbor?
On the field, the 2-4 Wolverines are as pathetic as ND was not long ago, with are-you-frigging-kidding-me losses to Rutgers and, worse, Minnesota. On Sept. 27, coach Brady Hoke apparently didn't notice a savage hit on quarterback Shane Morris, who could barely stand. Hoke kept the obviously concussed Morris in for another play. The ensuing double-talk about who was to blame (nobody, apparently) sounded like something out of Washington.
Michigan's bigger problems are off the field. Empty seats, unthinkable even in losing seasons, have appeared in the Big House along with signs calling for the firing of not just Hoke but athletic director Dave Brandon. U of M has resorted to selling tickets via Groupon and other social media sites, says Michigan grad John U. Bacon, author of Fourth and Long, a book that's critical of the program under Brandon. Before the Minnesota game, stores on campus were giving away tickets "with purchase of any 2 Coca-Cola products."
Michigan hired Brandon four years ago when he was chief executive of Domino's Pizza, the second-largest pizza chain in the U.S. He was hailed as the quintessential "Michigan Man," a strapping, handsome Go Blue grad who lettered as a defensive end for coach Bo Schembechler. His corporate skills must have looked invaluable in today's NCAA, the "nonprofit" conglomerate that counts Michigan, Notre Dame, and hundreds of other schools as wholly owned subsidiaries.
"Brandin' Brandon," as some dismayed Wolverine fans now call him, decided Michigan's gold brand wasn't gold enough. Military flyovers, fireworks, and skywriting became part of the ol' color and pageantry. Prices for tickets and concessions went up. New sales policies made it harder for students to sit with classmates. Chobani—which makes yogurt, not bratwursts—started sponsoring Michigan football tweets. After Beyoncé introduced the halftime show at a game last year, Brandon said, "That's a pretty powerful message about what Michigan is all about."

I'd love to hear the unprintable things the late Schembechler would say about that.
What Brandon is doing reminds me of the coach who tires of running up the gut for five yards a play and calls a double-reverse halfback-option pass. He's a genius if it works, but be ready for a pick six. Coca-Cola learned this the hard way with New Coke. Krispy Kreme had one of those deliciously mysterious and lucrative regional brands until it started putting its doughnuts in every convenience store in the country.
Brandon "didn't take over a turnaround situation," says Marc Ganis, president of Sportscorp, a Chicago sports consulting firm. "We only have so many great brands in U.S. sports. Michigan is one of them."
Brandon has increased athletic revenue about 50 percent to $150 million a year, according to Bacon. But student ticket sales are down, so he may be alienating the young demo, as a marketer might say. They aren't donors yet, but who knows what future millionaires are howling for Brandon's head? The Wall Street Journal's sports page, which is edited by a Michigan grad, called Brandon "possibly the most polarizing athletic director of a major university." That probably doesn't enhance the brand.
College football has been big business for a long time. But where does the for-profit mindset stop at a not-for-profit, tax-exempt institution? "This is one of the great failings of college football: It is losing the sparkle that comes with amateur sports," Ganis says.

Soon colleges might have to pay players. Maybe cheerleaders should be next. Maybe Guinness could sponsor Notre Dame's leprechaun mascot. After sitting in a cold drizzle through the interminable NBC television timeouts on Saturday in South Bend, I wouldn't put it past my alma mater.
It's certainly possible that if Michigan was 5-0, the stadium would be packed and no one would be so riled up about a quarterback who got his bell rung. Maybe Dave Brandon and his handpicked coach would be heroes.
But then, Michigan's "brand" isn't based on a string of national championships (the team has finished No. 1 in the country once since 1948) or even consistently winning seasons. "Michigan," Bacon wrote in a June blog post, "is all about lifelong fans who've been coming together for decades to leave a bit of the modern world behind—and the incessant marketing that comes with it—and share an authentic experience fueled by the passion of the team, the band and the students. That's it."
With halftime hoopla rivaling that of the Super Bowl and hot dog prices to match, Brandon and his athletic director brethren around the NCAA are missing the point. Sometimes the best way to enhance the brand, so to speak, is to leave it alone. "If you think you're running a business, you've made a mistake," Bacon says. "You're actually leading a religion. It's an irrational love. We can always stay home and watch the game on TV. Why do we go? Because it's religion. Because it's Michigan."
Before it's here, it's on the Bloomberg Terminal.
LEARN MORE