The Fed Just Updated Its Jobs 'Dashboard.' Here's What It Shows
By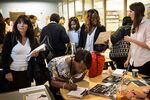 The Federal Reserve has a new tool for tracking the job market that's known informally as "the dashboard" and formally as the Labor Market Conditions Index. Fed staff economists updated the dashboard today and announced that from now on they will try to issue updates on Mondays following the Friday release of the Bureau of Labor Statistics' monthly employment report.
The updated Labor Market Conditions Index dampens a bit of the enthusiasm generated by the BLS report that showed the unemployment rate fell to 5.9 percent in September, the lowest in six years. The Fed said its index for September was 2.5, which was a bit stronger than the 2.0 in August but weaker than that of any other month since July 2012.
The index is composed of 19 indicators of the labor market, including the unemployment rate, of course, and less familiar measures such as "job losers unemployed less than 5 weeks" and "jobs plentiful vs. jobs hard to get."
The chart below shows the index's performance since the beginning of 2000. It's dominated by the 2007-09 recession and its aftermath, which was the deepest slump for the job market since the Great Depression.

Before it's here, it's on the Bloomberg Terminal.
LEARN MORE