Spending Points to House Democrats' Pessimism
Look at where Republicans are putting their dollars — and what Nancy Pelosi is telling her members.
By and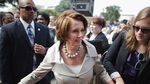 Democrats have given up on winning control of the House, and now they are just hoping to limit the damage in November's elections. Don't ask them – just look at the numbers and listen to what party leaders are telling the rank-and-file privately.