Note to Mary Barra: GM's Recalls Aren't Just a PR Problem
By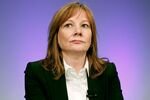 Something didn't feel right when General Motors Chief Executive Mary Barra posed for the cover of Time magazine last week before unveiling a bold plan to become "the most valued automotive company." And the source of that unease became clear this past weekend when GM recalled another 60,000 vehicles, bringing this year's tally of recalls to roughly 30 million vehicles—or more than triple what they sold worldwide in 2013.
While Barra may want GM cars to be "the safest in the industry," as she told Time's Rana Faroohar, it's not yet clear how she hopes to achieve that. Investors certainly didn't learn how the company is transforming GM to put safety first in the new strategic plan. Instead, Barra seems eager to put the past nine months behind her and, as she said last week, "really talk about the future of the company." GM has outlined a future filled with smarter cars, streamlined production, higher profits, and more auto loans worldwide. Safety, it seems, will be a given.
Only it's not. Barra may find that a lot of people aren't convinced that GM is now a brand you can trust. One reason, as Dartmouth professor Paul Argenti points out, is that she's "approaching this as a public relations/legal problem." In an effort to minimize legal liability and maximize positive press, the 30-year GM veteran has seemed almost begrudging when speaking out about the record-breaking volume of recalls and at least 23 deaths tied to ignition-switch defects the company has known about since 2001. That suggests a broader and deeper cultural flaw that goes beyond any legal or PR crisis.
While Barra did speak about creating a more open environment and prioritizing safety to Time, she comes across as less passionate about the subject than put out. And who can blame her? What a miserable way to start your tenure as CEO.
Here's the problem: Barra is running a company that could face criminal charges, SEC action, and billions of dollars in liability from multiple lawsuits because of its alleged disregard for safety. David Friedman, the acting chief of the National Highway Traffic Safety Administration, last month accused GM of being more worried about reporting its problems than fixing them. That's the reality of having the top job at GM in 2014. For the sake of her brand, her legacy, and her customers, Barra needs to make safety the defining priority of her leadership. "She has to seize it," says reputation consultant Davia Temin, "and turn it into something so positive, so trend-setting, that GM sets the new standard for safety."
To start, she might look at what Tim Cook has done at Apple. After supplier Foxconn Technology came under fire for labor conditions, Cook personally took on the issue and visited an assembly plant in Zhengzhou. He then made Apple the first technology company to join the Fair Labor Association. It helps that Apple is also the world's top global brand, according to the most recent ranking (pdf) by Interbrand, and makes products that people love. Apple is therefore less likely to be crippled by a punch, as crisis expert Eric Dezenhall describes in his new book, The Glass Jaw. "Even when the iPhone 6 drops calls," he says, "they get a pass because the wind's at their back."
The same can't be said for GM. Mary Barra inherited a company that has endured bankruptcy, multiple leadership changes, and a ho-hum reputation for years. Practically all her major rivals rank higher on Interbrand's ranking, with GM's Chevrolet brand coming in at 89th. While a stable economy and lower gas prices have boosted auto sales, that doesn't mean Americans now consider GM trustworthy. Its stock rose a little more than a percentage point after last week's investor day, which isn't much when you consider that the new strategic plan coincided with a significant upgrade from Standard & Poor's.
Barra has more work to do before putting the safety stuff behind her. In fact, she might want to put safety even more in the spotlight. It's hard to get excited about a future filled with driverless cars and simplified production lines if the force behind those changes can't be trusted with current technologies.
It's hard to know how committed GM is to fixing its issues without knowing more about what it's doing (and how much it's spending) to enhance safety. As GM's leader, Barra has an opportunity to transform not just her company but also the industry. To do that, she needs to own the issue of safety instead of suggesting that it's time to move on.
Before it's here, it's on the Bloomberg Terminal.
LEARN MORE