Jeff Bezos's New Plan for News: The Washington Post Becomes an Amazon Product
By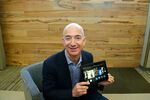 Jeff Bezos wants to turn the Washington Post into a national publication, and he's going to use his other company—Amazon.com—to help achieve that goal.
For the past few months, a group inside the Post has been working on a new application that will offer a curated selection of news and photographs from the daily newspaper in a magazine-style, tablet-friendly format. The application will come preinstalled on Amazon's newly updated Kindle Fire tablet, expected to be launched later this fall with the larger 8.9-inch screen, according to people with knowledge of the Post's plans.
The app will be free for owners of the larger Kindle, at least at first. It will eventually be available for download on other Kindles as well as to owners of Apple's iPad and various Android devices, and it will carry a monthly subscription fee. A Post spokesperson declined to comment.
Inside the Post, the effort has been dubbed Project Rainbow and is being led by Kerry Lauerman, the former editor-in-chief of Salon.com. Lauerman joined the paper as a senior editor in July to work on "an initiative focused on the fast-growing mobile readership," according to a Post press release announcing the hire. Lauerman reports to Cory Haik, the Post's executive producer for digital news.
One person with knowledge of Project Rainbow called it an experiment and part of a larger effort to find ways to expand the Post's reach. It's the first sign that Bezos will create ties between the newspaper and the e-commerce giant he started 20 years ago.
Since Bezos bought the paper last year, media observers have wondered how he will resuscitate a franchise with plenty of old-media challenges, such as declining print advertising and a readership that increasingly gets its news online and from mobile devices. The paper introduced a novel program that allows smaller publications to give their paying readers online access to the Post's website. In September, meanwhile, Bezos dismissed the Post's longtime publisher, Katharine Weymouth, and replaced her with Frederick J. Ryan Jr., a former aide to President Ronald Reagan.
Bezos has also accelerated hiring at the newspaper, bringing in 100 new journalists while cutting pensions and other retirement benefits for current employees. The resulting buzz has been positive, on balance. David Carr, media columnist at the New York Times, just heralded a recent turnaround in quality: "The once-embattled newspaper," he wrote, "is in the middle of a great run, turning out the kind of reporting that journalists—and readers—live for."
Amazon's Kindle Fire tablets and its new Fire Phone lag in popularity behind competing tablets and phones from Apple, Samsung Electronics, and others. But Amazon has placed a unique bet that editorially produced content, such as Amazon-published books, Amazon-produced TV shows, and now perhaps Washington Post-published news, can attract additional users.