Hong Kong Protesters Split on How to End Crisis: Street Voices
Weiyi Lim, Fion Li, Alfred Liu and Natasha Khan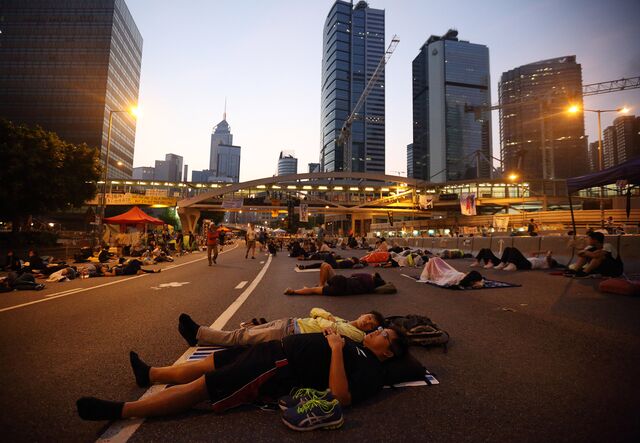 Pro-democracy protesters today allowed civil servants to enter Hong Kong's government offices as demonstrations that had paralyzed parts of the city for 10 days thinned after the start of talks with student leaders.
Dozens of people continued to demonstrate outside the office of Chief Executive Leung Chun-ying, while others remained around the government headquarters in Admiralty district and in the shopping areas of Causeway Bay and Mong Kok. Hundreds of men attacked students in Mong Kok last Friday.
While talks are starting with leaders of the Hong Kong Federation of Students, questions remain over how much control they have over the demonstrators who answered the calls to rally.
Below are voices from the street:
Vivien Tsang, who works in the services sector and was this morning sitting outside Leung's office: "I still don't think the government is sincere. Police should respond to the public as to why there was so much chaos in Mong Kok. Instead, they are only blaming the protesters.
''Also, the student leaders should openly talk with the government to make sure they are handling the matter in a fair way.''
Felix Wong, 21, who has been involved in the protests for the past eight days: ''I will keep coming back if the government continues to ignore what we say. I don't quite agree on the idea of having multiple meetings with the government.
''The student leaders should threaten the government a little bit. They should set a deadline themselves, say one more week, otherwise they will escalate their action. Now the students are a bit too passive.
''I think the momentum is still here, but the student leaders should really set a deadline on how much longer the sit-in would take. Otherwise, the voice of the opposition side will get stronger and the students will lose support.''
Ho Fung, a second-year university arts student: ''If we're going to make concessions every time the government offers us a sliver then why don't we all just go home? What's the point? I saw the violence in Mong Kok last night. The police did nothing. If I don't sit here then all our momentum will be gone. The police and the government will run the show again.''
Tiffany Yeung, 18, a university student outside Leung's office: ''We chose to protest here because we want to make it inconvenient for C.Y. We want to get his attention. This incident is just one of the many things we are unhappy about, which is why we want him to step down.
''I am here because the election is not what we want. I am not optimistic about the outcome but at least people are made more aware of the situation.
''I think the so-called negotiation with the government is only the government's way of delaying and instead of agreeing to our requests, convince us of their ways.
''Even if the student leaders agree to any proposal, I will need to look through it myself to decide if it's enough before I leave the streets.''
Katie Kwong, 18, a university student, who has taken part in the demonstrations for a week: ''At this point the discussion will probably have to lead to some conclusion. It may not be perfect but it will get somewhere.
''Even if China may not relent, and we are so small, I think our effort is already impressive, we need to at least try.
''The student leaders don't represent us. There's no leader at this stage, we all need to gauge for ourselves if the results are enough before we decide to leave.''
Chan Ngo Lam, 16, student: ''I am here because I want to be able to elect my leader when I am 18. There are too many unreasonable rules. I don't want to regret later if I don't do it now. My father was 20 when Tiananmen happened so he's very supportive of me doing this.
''It's not possible for the government to meet all requests but I hope most can be met. This is Hong Kong's problem. Even if the student leaders ask me to leave, I may probably not go. While everyone's goal is to have real elections and democracy, everyone's opinions are different and even among the student leaders they have varying views. They do not represent everyone's views so I need to see what's laid out for us before I make a decision."
Matthew Lam, 30, a social worker: "If the students can do it, why shouldn't I? If the government wants discussion, why not do it at the start and only now? So far I have only heard how the leaders have criticized this demonstration and said it's illegal. The dialogue has lost all meaning at such a late stage.
''I have friends at Mong Kok and Causeway Bay and they witnessed a lot of violence.
''I will see what the government offers. The students may be facilitating the process now but it doesn't mean I will leave when they ask me to. I need to decipher and analyze the details of the proposal and see if it's good for Hong Kong. That's what a Hong Konger should do. The responsibility shouldn't fall solely on the students.
Tony Tsui, 62, a retired factory project manager: ''I'm sitting here because of my conscience, because fighting for real democracy is a universal value.
''I could be on a beach in Hawaii sleeping now instead of here, but without universal suffrage the leaders are pro-business and pro-tycoon which puts our young people at a very unfair disadvantage.
''I think it's necessary to talk with the government as we can't have occupying be part of the movement forever. That the movement has extended more than a week is really beyond my expectations. But I worry about how this will end, what can the government offer us? Will they use delaying tactics?
''Concessions need to be on both sides. The government needs to give us something otherwise how will the student leaders tell people to leave? It will be a delicate balance for all the different sides to emerge from this winning.''
Meteor Yau, 19, a chemistry student at the Mong Kok protest site: ''After seeing what happened in Mong Kok, I decided to come here instead to protect other students. For us in Mong Kok, we don't belong to any leaders. We don't have to listen to anyone. I think we do have some differences with the Federation of Students. It is important to hold on to our grounds in Mong Kok so we can distract the police and Admiralty will be safer.
''When will we leave? Probably when we see some practical results from the talks and we find that satisfying. Or at least we are shown promising progress toward true universal suffrage even if it may not be entirely democratic. At least there should be more Legco seats through direct elections and public nominations for the chief executive. I think it all depends on whether the government package or promises can satisfy the people here. We are all different individuals in Mong Kok, so it is hard for me to say if everyone will leave. It depends on how others feel.''
Before it's here, it's on the Bloomberg Terminal.
LEARN MORE