HP Takes the King Solomon Approach
The tech giant's split is a sign of defeat
By and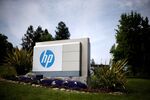 Whatever Hewlett-Packard once was, it is no longer. As it prepares to split into two companies—one that sells data center equipment and services, another that sells PCs and printers—HP estimates that 55,000 of its employees, about 1 in 6, will lose their jobs. Even more staggering than the sheer scale of those firings (most of which had already been announced) is that they come not because HP has some big idea or grand new vision it's trying to meet, but because it doesn't.
Chief Executive Officer Meg Whitman's decision, announced on Oct. 6, is about placating investors as much as anything. HP's shares have yet to recover from former CEO Mark Hurd's scandal-tinged exit in 2010, and while Whitman has done a great deal to stabilize the company and boost research and development, her five-year turnaround plan has stalled. She promised growth by this year, but that hasn't happened, and HP shows no sign of meeting that goal next year.

Analysts say Whitman is splitting the company simply to be seen as doing something. "The news underscores our belief that HP and CEO Whitman appear increasingly uncomfortable with the status quo," wrote Toni Sacconaghi, an analyst at Sanford C. Bernstein. "While on one hand the desire to drive change and incremental value creation is positive, on the other, the potential spinoff appears fueled by weakness at HP rather than strength."
HP is hardly bankrupt. By the numbers, Hewlett-Packard Enterprise, the data center company, will have revenue of $58.4 billion and an operating profit of $6 billion this year. HP Inc., the PC and printer company, will have revenue of $57.2 billion and an operating profit of $5.4 billion. (Whitman plans to run HP Enterprise, and Dion Weisler, the current head of PCs and printers, will become CEO of HP Inc.) However, cleaving HP in two doesn't solve the serious problems facing either set of businesses.
Surprisingly, the PCs and inkjets of HP Inc. may have the rosier story in the short term. PC sales have stabilized somewhat, and HP has a couple of promising projects, most notably in 3D printing. The caveats: PC growth will never be what it was 10 years ago; given Lenovo's strength in emerging markets, HP won't be able to reclaim the No. 1 spot from its Chinese rival anytime soon; and the mobile revolution put a permanent dent in the demand for printing. Still, the company has a real shot at opening up a new market—and perhaps reclaiming some of its cachet as an innovator—if it focuses on making sure its home- and office-scale 3D printing technology is the best around.
When Whitman takes over the newly christened Hewlett-Packard Enterprise, she'll be in charge of a lagging company in a high-growth field. "What has been surprising is how fast the enterprise space is moving," she said in an Oct. 6 interview. On its own, Enterprise will need to accelerate the still-distant plans to revitalize its data center products, including low-power servers for its biggest customers, expanded cloud services, and a futuristic, ambitious computing architecture due out in a few years. To outflank Dell, IBM, Oracle, and a host of startups, Whitman's teams would have to execute all that perfectly. "I don't see HP as really playing at the high end with IBM and Oracle," says Peter Wahlstrom, an analyst at investment researcher Morningstar, adding that the solo HP Enterprise could have a better shot if it merges with a rival such as EMC.
HP executives have debated carving up the company for years but resisted partly because of attachments to the past. While Bill Hewlett and Dave Packard were tough businessmen who demanded profits, the company they started in a garage in 1939 took pride in fostering a casual but productive culture, spending big on R&D, and sharing profits with employees. Much of that culture eroded over the past 10 to 15 years as HP spun off its scientific instrument business, bought Compaq for almost $25 billion, and blew through five CEOs while watching its business sputter. But splitting the company is an even bigger break with the past, and a sad reminder that Silicon Valley has lost a singular, powerful vision that helped guide it for the better part of a century.
Before it's here, it's on the Bloomberg Terminal.
LEARN MORE