Herbalife Names Compliance Head Amid Fight With Ackman
Duane D. Stanford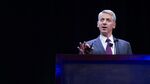 Herbalife Ltd., the nutrition company that's being probed by the Federal Trade Commission over allegations it runs a pyramid scheme, appointed a former official from the agency to the new role of head of compliance.
Pamela Jones Harbour, who served as an FTC commissioner from 2003 to 2010, will lead a global compliance team covering 91 markets, Herbalife said in a statement today. Most recently she was a partner helping head the privacy and data-protection team at law firm BakerHostetler and also was a prosecutor in the New York State attorney general's office for 12 years.
Herbalife Chief Executive Officer Michael Johnson has made multiple changes in response to a two-year assault by billionaire hedge-fund manager Bill Ackman, who's accused the company of cheating its independent distributors. The company's product-return policy was strengthened, outside sales leads were banned, training was added and new distributors now must acknowledge protections in writing. Harbour's appointment may mean stricter policing of distributors are coming.
"I know first-hand how great the products are because I've been a customer for 10 years," Harbour said in the statement. "My understanding of the industry and familiarity with the products have given me great insight into what a beneficial company Herbalife is."
Herbalife, which is based in Los Angeles, rose 6 percent to $47.30 at the close in New York. The shares have declined 40 percent this year.
Ackman's Fight
Ackman has waged a battle to shut down Herbalife since December 2012, saying it misleads distributors, misrepresents sales figures and sells a commodity product at inflated prices. U.S. regulators and law enforcement also are investigating the allegations.
At least 16 Latinos have filed consumer complaints with the Illinois attorney general, saying Herbalife duped them into buying tens of thousands of dollars worth of products they couldn't sell. The state is investigating. Herbalife relies on independent contractors to distribute its wares and says it enforces rules governing distributors.
Nutrition clubs, a key part of Herbalife's direct-sales approach, lose $12,000 on average and swindle low-income consumers, Ackman said in a July presentation. Some club programs create a kind of "conscripted consumption" of its meal-replacement shakes, teas and aloe drinks, generating artificial demand, Ackman and his team have alleged.
Herbalife has denied the allegations, saying Ackman's claims are "completely false and fabricated."
Harbour's full title will be senior vice president, global member compliance and privacy. The position entails developing education and training policies for Herbalife's almost 4 million independent members worldwide and coordinating the company's global privacy and cyber-security efforts.
She'll report to Mark Friedman, Herbalife's general counsel.
Before it's here, it's on the Bloomberg Terminal.
LEARN MORE