Gay Rights Groups Calling Supreme Denial a Victory
Without a nationwide ruling, same-sex marriage gets a green light in several states.
By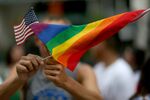 Marriage-equality groups and their opponents have both been denied a seemingly inevitable ruling on same-sex marriage this Supreme Court term. But though the court has passed on the opportunity to make a landmark nationwide ruling on same-sex marriage, gay rights groups are leading with the positive: In the five states where marriage bans have been struck down, same-sex couples will soon be free to marry. The court's decision to not hear cases from those states means appeals court decisions can now take effect.