Fallen Class-Action Dean Mel Weiss to Sell Picasso Works
Miles Weiss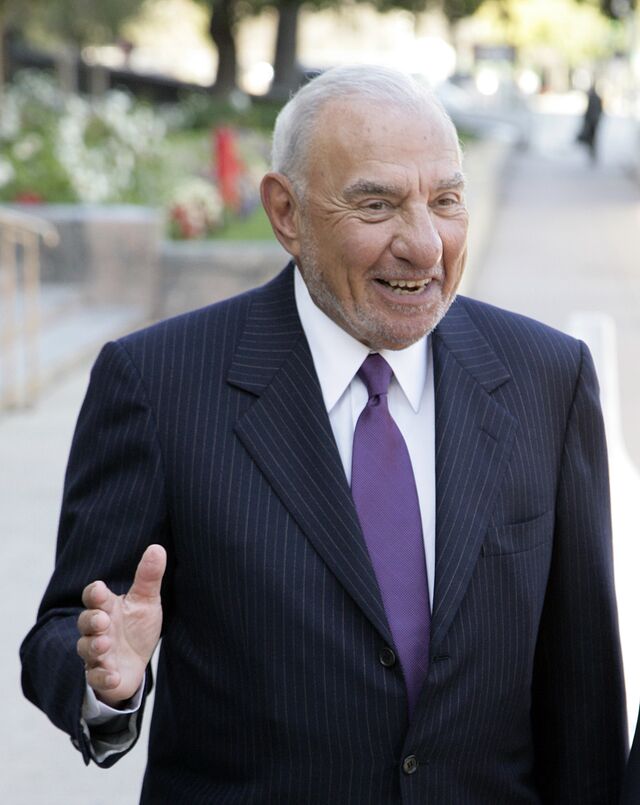 Melvyn Weiss, the millionaire class-action attorney who was felled by illegal kickbacks, is selling more than 140 lithographs, etchings and other works of art by Pablo Picasso.
Weiss and his wife, Barbara, have pledged the artwork to the financial services unit of New York-based Sotheby's, according to a Sept. 23 New York state regulatory filing. Barbara Weiss, in an interview last week, said the couple planned to put the art up for auction. She declined to comment further.
Collecting Picassos was such a passion for Weiss, 79, that the pursuit played a role in the 2007 criminal case that federal prosecutors brought against him and other founders of Milberg Weiss Bershad Hynes & Lerach LLP, once the nation's largest class-action securities law firm. The artwork he's now selling ranges from 23-carat gold figures to a linoleum cut titled "Grand Tete de Femme," the first of many Picassos acquired by the former litigator.
Weiss declined to comment when reached by telephone, saying the sale is a "personal matter." Mary Bartow, the head of Sotheby's prints department, said the auction house doesn't comment on or identify specific consignors.
Picasso, who died in 1973 at age 91, was a prolific artist, producing sculptures, ceramics and illustrated books as well as oil paintings, etchings and lithographs. His etchings and lithographs typically sell for thousands of dollars, far less than his oil paintings. Exceptions include "Femme qui Pleure I," a 1937 print that brought 3.2 million pounds ($5.1 million) in a February auction at Sotheby's in London.
'Model-T' Perception
"There is a perception that paintings are Ferraris and prints are Model-T Fords," said Robert Flynn Johnson, who spent 32 years as the head of prints, drawing and photography at the Fine Arts Museums of San Francisco. "They aren't. They are just different," said Johnson, now the museums' curator emeritus.
The bull market for marquee art is benefiting Picasso sellers. Auction sales of his works rose to $458.8 million in the 52 weeks ended June 30 from $309.6 million in the prior year, according to Artprice.com.
Most of the artwork that Weiss pledged to Sotheby's consists of prints from the latter part of Picasso's career in the 1940s, '50s and '60s. Many of the most-valuable Picasso prints were those completed in the 1930s.
Weiss and Lawrence Milberg started their firm in 1965 and eventually helped investors recover about $45 billion through securities fraud suits filed against companies such as Enron Corp., WorldCom Inc. and Tyco International Ltd. In May 2004, the firm split, with former partner William Lerach forming his own practice based out of San Diego.
Plaintiff Payments
After conducting a seven-year investigation, the U.S. Justice Department alleged that four of the firm's partners ran an illegal program that paid millions of dollars in secret kickbacks to plaintiffs in return for filing. In 2007, prosecutors alleged that Weiss disguised a $175,000 kickback Dr. Steven Cooperman, one of the firm's professional plaintiffs, as a payment for the option to acquire a Picasso known as "Reclining Nude" from the former Beverly Hills, California, eye doctor.
Milberg Weiss, now known as Milberg LLP, paid $75 million to settle federal charges related to the kickbacks, which enabled the firm to gain an edge over other attorneys in winning the lucrative lead role in securities class actions. After pleading guilty in April 2008 to charges of racketeering conspiracy, Weiss was sentenced to 2 1/2 years and served time in a minimum security federal prison in Morgantown, West Virginia.
'Captivated Me'
In a foreword for a limited edition book published by the Melvyn and Barbara Weiss Art Foundation, Weiss wrote that he bought his first Picasso after entering the Erika Meyerovich Gallery while on business in San Francisco and seeing "Grand Tete de Femme," the linoleum cut that the artist completed in 1962.
"The image captivated me," Weiss wrote in the book, which was published in a limited edition of 50 copies. "Little did I realize that I would spend so much of my next 10 years enthralled by Picasso."
Before it's here, it's on the Bloomberg Terminal.
LEARN MORE