Disney Is Bailing Out Its French Theme Parks Again
By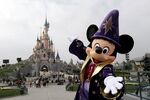 The Walt Disney Co. is digging into its pockets again to help Euro Disney, operator of the troubled Disneyland Paris theme park complex. The U.S. parent is backing a €1 billion ($1.25 billion) bailout, including a 420 million capital increase and the conversion of debt it's owed by Euro Disney into shares in the French company.
Paris-listed shares in Euro Disney plunged as much as 16 percent today, Oct. 6, on news of its second major recapitalization in two years. Euro Disney hasn't made a profit since 2008, a situation exacerbated recently by declining attendance as the French economy falters. The company has said it could lose as much as €120 million this year, with sales down 3 percent. By contrast, sales at Disney's U.S. park and resort operations are up 8 percent this year.
The recapitalization demonstrates Walt Disney's "continued confidence in Disneyland Paris, which remains the No. 1 tourist destination in Europe," the Burbank (Calif.) company said in a statement. Disney currently owns 40 percent of Euro Disney, but that stake could rise, as the company has guaranteed to take any shares not bought by other investors in the capital increase. Saudi Prince Alwaleed bin Talal, who owns 10 percent, hasn't said whether he will add to his stake, Euro Disney's finance chief told Reuters.
Euro Disney's 22-year history doesn't inspire much confidence. Its suburban Paris complex, which includes Disneyland Paris and an adjacent Walt Disney Studios park, has struggled with up-and-down attendance, labor unrest, and visitor complaints about rundown facilities and poor service. The company has pledged to make improvements to increase customer satisfaction. But doing so "requires more free cash-flow generation than is the case today," analysts at Paris investment bank Natixis wrote in August. "The risk is that [spending on improvements] will further weaken the balance sheet."
Euro Disney owes €1.75 billion to its U.S. parent, a figure that will be reduced by an estimated 43 percent under the refinancing plan. The plan "is essential to reinforce the financial solidity of Euro Disney," Tom Wolber, Euro Disney's president, said in a statement. "A bad economic environment and heavy debt have impacted revenue and cash."
Before it's here, it's on the Bloomberg Terminal.
LEARN MORE