Emerging Stocks Advance With Brazil Amid Hong Kong Talks
Elena Popina and Natasha Doff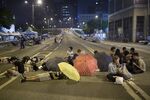 Emerging stocks rose for a second day as Brazilian assets surged amid wagers on a new government that would bolster growth. Protesters in Hong Kong began talks with the government and Russian stocks climbed.
The MSCI Emerging Markets Index added 1.3 percent to 1,010.32 in New York. The real surged for a second day and state oil company Petroleo Brasileiro SA rallied as much as 17 percent. The Micex Index increased in Moscow, led by OAO Sberbank, after losing 3.5 percent last week. Agricultural Bank of China Ltd. posted the biggest gain in a month in Hong Kong.
Brazil's stocks and currency jumped after Aecio Neves surprised analysts to take second place in presidential elections, forcing a runoff with incumbent Dilma Rousseff. Russian stocks rose the most in a month as Ukrainian troops prepared to set up a no-fire zone to cement a monthlong truce with pro-Russian separatists. Pro-democracy demonstrations that paralyzed parts of Hong Kong for 10 days thinned after the start of talks with student leaders.
"The lift that we're seeing today in the emerging markets is coming from Brazil," Bruce McCain, who helps oversee $25 billion as chief investment strategist at the private-banking unit of KeyCorp in Cleveland, said in a phone interview. "Any potential, any sign that Brazil, a very attractive market for investors, will get more stability as a result of these elections, is seen as a highly positive sign."
Neves Bets
All 10 industry groups in the MSCI emerging-market gauge advanced, led by energy and consumer companies. The measure trades at 10.8 times its projected 12-month earnings, while the MSCI World Index of developed-nation equities is valued at a multiple of 14.6 times. The developing-nation stock gauge, which fell to a six-month low on Oct. 2, posted its first two-day gain in more than a month.
Stock markets in mainland China, India, Malaysia, the United Arab Emirates, Qatar and the Philippines are closed for holidays.
The Ibovespa jumped 4.7 percent, the biggest gain since 2012. Petrobras rose 11 percent, the most since 2008. The IShares MSCI Brazil ETF added 6.1 percent in New York, while the real strengthened 1.3 percent.
While Neves would have to overcome the eight-point deficit of the first-round vote, investors are betting that his government would bolster growth and curb intervention in state companies after Rousseff oversaw the slowest economic expansion for any Brazilian president in more than two decades.
Ruble, Rand
Russia's Micex Index climbed 2.4 percent as Sberbank, the country's biggest lender, rose 3.5 percent, its steepest increase in a month. The ruble, which last week depreciated 2 percent, strengthened 0.6 percent against the dollar. Equity markets in Turkey and Hungary added at least 0.7 percent.
The rand climbed 1.2 percent after South African President Jacob Zuma picked Lesetja Kganyago, the former director-general of the National Treasury who joined the Reserve Bank as a deputy governor in 2011, as successor to Governor Gill Marcus. The FTSE/JSE Africa All Share Index added 1.1 percent.
The Hang Seng China Enterprises Index of Chinese companies listed in Hong Kong advanced for a second day. Agricultural Bank of China, the nation's third-largest lender, rose 1.2 percent, while Citic Securities Co. gained 2.5 percent.
Civil servants poured back into offices after students removed some barricades in response to an ultimatum from the city's leader to restore access or face possible police action. Protesters numbered in the dozens at the three main sites, with leaders saying they would ramp the demonstrations back up without concessions on their demands for freer elections.
Protests 'Dissipating'
"It looks like protests in Hong Kong are dissipating, which is good for sentiment," Neil Shearing, chief emerging-markets economist at Capital Economics Ltd. said by phone from London. "It's no surprise that the weaker performers over the past month, such as Russia, have seen the biggest rebound."
Hyundai Merchant Marine Co., which owns part of a tour operator in a North Korean resort, surged 15 percent, leading the advance in the MSCI emerging-nation stock gauge in percentage terms. South Korean President Park Geun Hye's top security adviser met his North Korean counterpart for the first time and agreed to push for improved relations.
The premium investors demand to own emerging-market debt over U.S. Treasuries climbed one basis point to 304, JPMorgan Chase & Co. indexes show.
Before it's here, it's on the Bloomberg Terminal.
LEARN MORE