BOE's Carney Gives Gilts Room to Keep Ahead of Treasuries
Eshe Nelson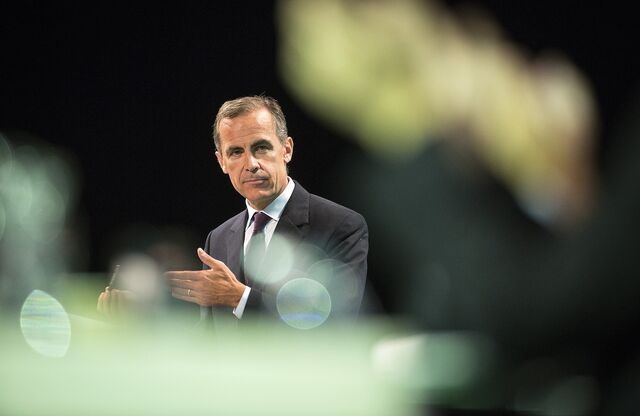 Bank of England Governor Mark Carney's pledge to raise interest rates at a slow pace is giving gilt investors something to cheer about.
Markets are embracing his commitment, betting U.K. policy makers will increase borrowing costs more gradually than their U.S. counterparts. This will allow the nation's bonds to continue their outperformance of Treasuries into 2015, according to Capital Economics Ltd. The U.K. 10-year yield fell to the lowest level in more than a year today.
As inflation languishes below the BOE's target, Carney has more time to tighten policy, said Samuel Tombs, a London-based economist at the research firm. In the U.S., last week's jobs report was the latest indication of vigor in the labor market as growth picks up.
"There is scope for gilts to outperform Treasuries over the coming year or so," Tombs said. "Low inflation should really enable them to move very slowly. In the U.S., there's much clearer signs that the economy is closer to its productive potential."
Gilts have returned 5.2 percent over the past six months and 8.2 percent this year, compared with gains of 2.6 percent and 4.3 percent, respectively, for Treasuries, bond indexes compiled by Bloomberg show. Futures contracts and bond-market yield curves show investors expect the BOE's rate increases to be more limited than the Federal Reserve's over the next three years.
Rates Bets
Short-sterling interest-rate futures indicate traders are betting on about a 75 basis-point increase next year and again in 2016, slowing to 25 basis points in 2017.
By contrast, Eurodollar futures, the world's most actively traded short-term interest-rate contract, shows the Fed may lift rates by 75 basis points in 2015, 100 basis points in 2016 and another 75 basis points the following year.
By the end of 2016, the U.S. benchmark will be about 3 percent, about double the BOE rate, according to Capital Economics.
"The market has come to an agreement with what central bankers have been saying," Vatsala Datta, a U.K. rates strategist at Royal Bank of Canada in London, said on Oct. 6. "If I look at the shape of the short-sterling curve and how many hikes have been priced in per annum, it's very gradual compared to what used to be in the previous cycles."
Bond Markets
The shape of gilts and Treasuries yield curves point to faster rate increases by the Federal Reserve. While Britain's two-year yield, at 0.74 percent as of 2:58 p.m. London time, is above the 0.52 percent rate in the U.S., Treasuries have the higher five-year yields.
As recently as June, Britain's five-year rate was more than 40 basis points above those on Treasuries. Today it fell to the lowest relative to the U.S. since September 2013. The 10-year gilt yield touched 2.29 percent today, the least since August 2013.
Even though the BOE will begin raising rates sooner than the Fed, it will continue at a slower pace, according to Goldman Sachs Group Inc.
The BOE will start tightening policy in the first quarter of next year versus the third quarter for the Fed, economist Kevin Daly wrote in a client note on Oct. 2. From there, U.K. rates will increase by about 75 basis points per year, compared with 100 basis points in the U.S.
Household Debt
Influencing the BOE's pace of rate increases may be the U.K.'s level of private-sector debt, which Goldman estimates at 200 percent of gross domestic product, compared with 125 percent in the U.S.
Household debt in Britain stood at a record 1.46 trillion pounds ($2.35 trillion) in August, according to the BOE. Indebtedness, at about 140 percent of gross disposable income, is higher than in the U.S., Germany, France and Japan. About two thirds of outstanding mortgages are at rates that move with the BOE benchmark.
"Outperformance is feasible" for gilts versus Treasuries, Simon Peck, a rates strategist at Royal Bank of Scotland Group Plc in London, said on Oct. 3. "One of the things that matters in the U.K. is the large household debt stock and its sensitivity towards rising Bank Rate. There are arguments to say we can see the U.S. deliver a slightly more aggressive pace of policy tightening than we can in the U.K.."
Before it's here, it's on the Bloomberg Terminal.
LEARN MORE