Buffett Strikes Again in Nebraska Governor's Race
The world's third-richest person is helping Democrat Chuck Hassebrook in the governor's election.
Greg Giroux and Annie Linskey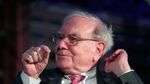 The Oracle of Omaha is investing once again in Nebraska's Democratic nominee for governor. 
Warren Buffett, the Berkshire Hathaway chairman and the world's third-richest person, made another $100,000 campaign contribution to Chuck Hassebrook, said the candidate's spokeswoman, Meg Mandy. The news came as Hassebrook announced raising a total of $1.4 million from June 18 to Sept. 30.
Buffett's latest donation, which will be detailed in disclosure reports, matches the $100,000 he gave Hassebrook in June. In Nebraska, there's no limit on how much an individual can give to a candidate, according to the National Conference of State Legislatures.
Buffett has a net worth of $68.2 billion, according to the Bloomberg Billionaires Index. Buffett's daughter Susan is an honorary campaign co-chair of Hassebrook's campaign. 
Hassebrook is running against Republican Pete Ricketts, who's also of billionaire stock: his father, Joe Ricketts, founded TD Ameritrade and created the Ending Spending Action Fund, a political organization he runs with his youngest son, Todd. Republican Dave Heineman is leaving office in January because of term limits.
For more on the role of Buffett in the Nebraska governor's race, see this July story from Bloomberg's Annie Linskey and Noah Buhayar.