Bubble-Era Defaulter Ends 20-Year Market Absence: Japan Credit
Katsuyo Kuwako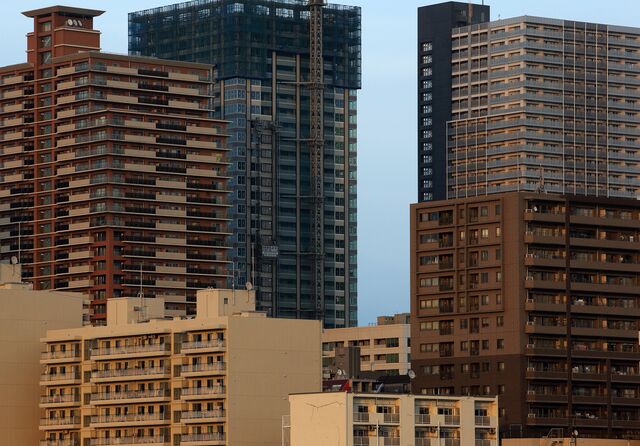 Haseko Corp., a Tokyo-based condominium builder, is returning to the bond market for the first time since defaulting in 1999 on about $3.6 billion in debt after the Japanese real estate bubble burst.
Haseko, which paid dividends for the first time in six years in the year ended March 31, last month registered to sell as much as 30 billion yen ($274 million) of notes and plans an offering of five-year debt, according to documents from Japan's Finance Ministry and Mizuho Securities Co., one of the arrangers. This would be Haseko's first sale since it raised 40 billion yen in 1994, Bloomberg-compiled data show.
Prime Minister Shinzo Abe's economic revival policies spurred a property market boom that pushed the average cost of an apartment in the greater Tokyo area to a 22-year high in August at about 57 million yen, or the equivalent of $524,000, according to Japan's Real Estate Economic Institute Co. Bond offerings in the country fell 2.9 percent even as the Bank of Japan's unprecedented stimulus aimed at ending deflation reduced borrowing costs to an 11-year low.
"The fact that a company like Haseko can return is a sign of the bond market expanding its scope to a new level," said Kenji Serizawa, a credit analyst at Daiwa Securities Co., Japan's second-largest brokerage. "You have investors flush with money from the central bank's easing and few new bond offerings -- this is a great environment for selling debt."
Real Estate Economic Institute Co. forecasts apartment sales in Tokyo will reach as many as 48,000 units in 2014, the second-highest level since the collapse of Lehman Brothers Holdings Inc. in 2008. Last year's total was higher, as buyers piled in ahead of the consumption tax increase in April 2014.
20-Year Recovery
Haseko's three-year business plan released in May pronounced the end of a 20-year restructuring which saw the company receive 390 billion yen in bond forgiveness and a 150 billion yen debt-for-equity swap. Its shares traded at 819 yen in Tokyo today, up from a record low of 13 yen in 1999.
"During the bubble era, Haseko wasn't just building condominiums, they were also in the office space market and had various investments," said Masahiro Mochizuki, a Tokyo-based equities analyst at Credit Suisse Group AG. "These days, they've narrowed their focus to just apartments and get a steady flow of orders, some 40 percent of which is from the nation's top developers."
The company, which was founded in 1937 in Amagasaki, western Japan, built its first condominium in 1969, according to its website. The real estate firm was battered by the bust of Japan's asset market bubble that saw the Nikkei 225 Stock Average lose 57 percent of its value in the three years through the end of 1992.
Cash Triples
Haseko's cash and equivalents more than tripled in the past five years to 127.4 billion yen in the quarter to June 30, as orders doubled to 108.4 billion yen in the period. Its capital adequacy ratio increased to 28.4 percent from 16.3 percent, the company reported on Aug. 7.
Japan's Rating & Investment Information Inc. in April upgraded Haseko one level to BBB+, its third-lowest investment grade. That's up from the fifth-highest junk level of B in 1999. Japan Credit Rating Agency Ltd. gave it an A- score, its seventh highest, saying the company is "highly competitive in winning orders."
Haseko hired Mizuho, Daiwa and Nomura Holdings Inc. for a five-year bond offering, Mizuho said on Sept. 25. The company's finance ministry registration on Sept. 22 says the proceeds will be used for operating expenses, capital expenditures and debt repayment.
Issuers' Market
"We chose this timing for the registration because our credit rating went up and the bond market environment is favorable to new issuance," Haseko's spokesman said in an e-mailed response to questions. He declined to give further details of the sale and asked not to be identified, citing the company's policy.
The average yield on Japanese corporate bonds declined to 0.34 percent last month, the lowest since June 2003, Bank of America Merrill Lynch indexes show. Companies worldwide pay 2.67 percent. Japan's benchmark 10-year bond yield was at 0.515 percent as of 3:53 p.m. in Tokyo today, while the yen traded at 109.42 per dollar, after touching 110.09 on Oct. 1.
Japanese companies raised 6.7 trillion yen via bond offerings this year, compared with 6.9 trillion yen in the same period in 2013, Bloomberg-compiled data show. Real estate companies sold 254 billion yen in the first nine months, a 13 percent increase from a year earlier.
Haseko's probability of debt non-payment in the coming year fell to 0.11 percent from as high as 11.8 percent in 2009, according to the Bloomberg default-risk model, which considers factors such as share performance and debt.
"The level of unsold apartment units is pretty low, suggesting that the apartment market is unlikely to experience the kind of oversupply and plunging prices we've seen before," Daiwa's Serizawa said. "Haseko's business environment promises a steady increase in profits for the time being."
Before it's here, it's on the Bloomberg Terminal.
LEARN MORE