Bangkok Airways Seeks Up to $430 Million in Initial Sale
Anuchit Nguyen and Joyce Koh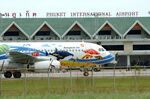 Bangkok Airways Pcl, Thailand's oldest private carrier, is seeking as much as 14 billion baht ($430 million) in the country's third-biggest initial public offering this year.
The company is selling as many as 520 million shares at 23 baht to 27 baht apiece, it said in an e-mailed statement today. It plans to offer the shares to investors from Oct. 14 to Oct. 24, the filing shows.
The carrier will use the IPO proceeds to buy 18 new planes from Boeing Co. and Airbus Group NV and renovate airport facilities, it said today at a media briefing in Bangkok. First-time share sales in Thailand have raised $2.2 billion this year, compared to $3.7 billion the same period in 2013, data compiled by Bloomberg show.
"Bangkok Airways' earnings in the first half were severely affected by the poor situation in the tourism industry caused by political instability," Chief Executive Officer Puttipong Prasarttong-osoth told reporters. "We see very encouraging signs and expect better performance in the second half."
The carrier will spend as much as 9.5 billion baht of the proceeds to buy new airplanes through 2017, according to a regulatory filing with the country's Securities & Exchange Commission dated today. It will spend another 1.5 billion baht on aircraft engines and parts, while about 2 billion baht will be used to construct new maintenance facilities in Bangkok and improve the company's airport on the resort island of Koh Samui.
Catering, Cargo
Bualuang Securities Pcl, DBS Vickers Securities (Thailand) Co., Citigroup Inc. and Credit Suisse Group AG are arranging the share sale. Bangkok Airways, which began flights in 1968, has permits for 20 major domestic routes and serves overseas destinations including Myanmar, Singapore and the Maldives, according to its website.
Poramaporn Prasarttong-osoth, the sister of the carrier's chief executive officer, is selling an additional 105 million shares as part of the offering, Bangkok Airways deputy vice president for finance Anawat Leelawatwatana said at the media briefing. The final offering price will be set Oct. 17 and the stock will start trading on Nov. 3.
The company owns three airports and offers services to other airlines including meal catering, ground handling and cargo services, it said in a Sept. 22 filing. It also holds a 7.8 percent stake in hospital operator Bangkok Dusit Medical Services Pcl, the filing shows.
Thai Hotel Investment Freehold & Leasehold Property Fund, a property fund controlled by billionaire Charoen Sirivadhanabhakdi, in May raised 26.2 billion baht in the country's biggest IPO of the year.
Before it's here, it's on the Bloomberg Terminal.
LEARN MORE