'Champagne Fizz' Goes Flat for London Homes: Real Estate
Neil Callanan and Patrick Gower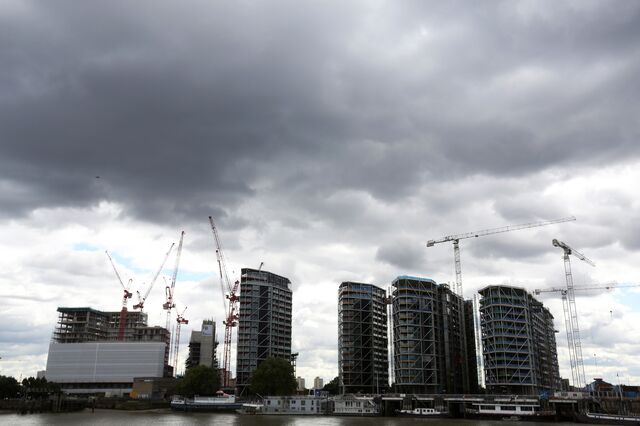 Twenty one cranes loom over the south bank of the River Thames from Battersea Power Station to the St. George Wharf tower. Here, in the biggest concentration of residential projects in London, developers are steaming ahead just as prices are starting to fall.
Homebuilding in central London doubled in two years as record-low interest rates and demand from overseas buyers drove up values at a pace not seen since 1987. Developers such as China's Dalian Wanda Group and U.K.-based Berkeley Group Holdings Plc were drawn to the Nine Elms district, where Malaysia's Sime Darby Bhd. is redeveloping the Battersea station as part of a plan to turn the neighborhood into a prime address.
As the apartment towers rise, the price increases that underpinned the construction boom have come to a halt. London home values fell month-on-month for the first time in two years in September, according to Hometrack, and developers such as Killian Hurley, chief executive officer of London-based Mount Anvil Group Ltd., don't see a return to red-hot growth soon.
"Over the summer months, the champagne fizz went out of the market," said Hurley, whose company plans to develop London homes worth 1 billion pounds ($1.6 billion) by 2018. "The madness has gone out of it, so it's a lot more sustainable. People are becoming more discerning."
Expectations Dive
Expectations for home price growth in the capital are falling at the fastest pace since before the financial crisis, a survey by the Royal Institution of Chartered Surveyors showed. Values rose in 1 percent of London postcodes in September, compared with 87 percent in February, Hometrack said Sept. 26. Further "modest" declines are likely, the research firm said.
Though prices climbed for most of this year, the pillars supporting the London market -- a cheap pound, record-low interest rates and the city's reputation as a haven for foreign buyers -- have been eroding for months.
U.K. financial officials damped domestic demand for homes by tightening affordability checks and restricting the number of high loan-to-income mortgages. Speculation about when the Bank of England will raise the benchmark interest rate from a record low of 0.5 percent is also causing uncertainty in the market. BOE policymakers, meeting this week, have been split over whether to keep the rate at that level.
Overseas buyers have seen prices rise because of a strengthening pound, as well as new levies such as a capital-gains tax on homes sold by people living abroad. They're also wary of the opposition Labour Party's plan to raise 1.2 billion pounds from a "mansion tax" if it gets into power after next year's national election.
Stock Pressure
The Bloomberg U.K. Homebuilders Index is little changed this year, compared with a 37 percent gain in the same 10 months of 2013. Berkeley, which focuses on London and southeast England, is the worst performer in the 10-stock index, with a 15.8 percent decline this year. Sime Darby fell 4.6 percent this year in Kuala Lumpur, where it's based.
Shares in Telford Homes Plc, the London-focused home builder, fell as much as 1.9 percent in the capital, the most since Sept. 26. The shares were down 0.4 percent at 340 pence at 11:11 a.m. Berkeley was 0.3 percent lower at 2,237 pence.
The proposed mansion tax, which would disproportionately affect London, already is reducing demand for homes, according to broker Knight Frank LLP. The central boroughs of Westminster and Kensington and Chelsea contain 46 percent of homes valued at 2 million pounds or more in all of England and Wales, it said in an Oct. 2 statement.
London values will gain 5 percent next year and remain little changed in 2016, Savills Plc said in an Aug. 26 report. Prices will rise 15 percent this year, the company predicted.
Limited Supply
"The dip in London house prices is unlikely to mark the start of a sharp decline, as growing employment and the lack of housing supply keep values close to record highs," Bloomberg economist Niraj Shah wrote in a Sept. 29 report.
U.K. home values are set for a 0.8 percent decline in 2015, led by London, as demand is stifled by high prices, larger deposit requirements and concerns about mortgage-payment increases, the Centre for Economics and Business Research said today. Values in the U.K. capital will fall 2.6 percent next year, the first decline since 2009, CEBR said in a statement.
There are now 22,000 central London homes under construction in London, according to Chicago-based broker Jones Lang LaSalle Inc. The number of new homes sold in core locations fell 33 percent in the first half of 2014 from a year earlier, Jones Lang said last month. The broker defines core as Kensington to Canary Wharf on the north side of the Thames and from Nine Elms to Waterloo on the south.
New home sales in the outer core, which includes districts like Fulham, Hackney and Greenwich, rose 31 percent to 4,800 in the same period, the broker said.
Inferior Units
"Do not expect to see the aggressive growth that we've seen in the past three years," said Alexander Lewis, a partner at Knight Frank. "Supply is increasing, so there will be more choice and I do believe that the inferior units will suffer."
Many of the developers are targeting overseas buyers at the luxury end of the market, where rising supply has already reduced the premium paid for new apartments over existing ones to 43.1 percent at the end of the first quarter from 67.6 percent in 2012, London-based broker Huntly Hooper Ltd. said in September. Consulting firm EC Harris LLP defines luxury homes as those that will sell for 1,250 pounds a square foot or more.
"If you have a well-priced scheme in a good location, you will still sell it overseas," said Hurley at Mount Anvil, which is developing apartments 3.5 miles west of Nine Elms. "A few months ago, it could have been overpriced and it was still selling."
Unattractive Prices
Most domestic buyers can't afford or don't want apartments that cost more than 1,000 pounds a square foot, JPMorgan Chase & Co. analysts including Tim Leckie wrote in an Sept. 5 note to clients. At that rate, an owner of a 700 square-foot (65 square-meter) apartment would need a salary of 130,000 pounds to pay the bills, they estimated. The average London home sells for 367 pounds a square foot, Halifax said in June.
"By the time your London executive reaches this pay bracket, they are looking for more than 700 square feet in a high-density development," the JPMorgan analysts wrote. "As you tick up the luxury price ladder, the story looks ever worse."
Values in Nine Elms have risen about 33 percent in three years to 1,200 pounds a square foot, with some homes priced at 2,000 pounds, Jones Lang said in the September report. The district leads the city in homebuilding, according to Mark Farmer, who advises residential property developers for EC Harris.
Building Boom
London Mayor Boris Johnson has set a target of building 42,000 homes a year, according to a draft local government development plan. More than 1,200 are under construction in the South Bank neighborhood and Carlyle Group LP, the second-biggest private-equity firm by assets, has approval to build 489. Canary Wharf Group Plc won permission to build more than 3,000 homes at its Wood Wharf land plot adjacent to the east London financial district. Berkeley is considering the development of 6,000 homes at Kidbrooke Village three miles to the southeast.
A Berkeley representative declined to comment on the slowing London market. No one at Battersea Power Station Development Co., owned by Malaysian companies including Sime Darby and SP Setia Bhd., was available for comment.
As price expectations dim, building costs are rising. Many investors are now spending more than 50 percent of a central London project's value on land, Jones Lang director Will Grant wrote in the report. Residential land values in central London rose almost 19 percent in the first half, more than double the gain for homes in the same 13 districts in the period, according to Knight Frank.
'Hope Value'
That's causing unease among developers, said Farmer at EC Harris. Some clients are saying the costs reflect "hope value" of further increases "which is always a dangerous thing, especially, when build-cost inflation is starting to become a real issue in eroding planned returns," Farmer said.
Profit from a development is usually 15 percent to 25 percent of the completed project's value, so an increase in construction costs or a drop in prices "can quickly eat into the planned margin," he said. "There is definitely a nervousness about pricing and market sentiment."
Investors from east and southeast Asia bought 29 percent of the new London apartments that Knight Frank sold in the year through September, according to the broker.
Developers should not assume demand from Southeast Asia for new homes in London will continue, Lewis at Knight Frank said. Projects without residential amenities "or community feel, geared purely at an international market of investors" will suffer when that market drops, he said.
"There is an increasing sophistication of the overseas buyer; it's not just a one-way ticket, which is good," said Hurley at Mount Anvil. "No serious developer likes to be involved in the boom and bust."
Before it's here, it's on the Bloomberg Terminal.
LEARN MORE