Why RNC Chief Thinks It Is Now or Never
If the GOP doesn't succeed this year, 2016 looks much tougher.
By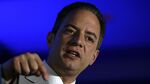 President Barack Obama's poor approval ratings and a very favorable Senate election map have made overturning the Democrats' 55-45 majority not just a possibility but a critical priority for Republicans.
"I think we've got to win the Senate," Republican National Committee Chairman Reince Priebus said Sunday on NBC's "Meet the Press." Asked by Chuck Todd if failing to do so would mean Republicans had a "bad election," Priebus responded: "I think so. Yeah, I think that's fair. I think we've got to win the Senate. I think we will win the Senate. The question for us is, you know, are we going to win with six, seven or eight seats? And I think that's what's up for grabs right now."
Here's why there's a now-or-never feeling among Republicans: Democrats are defending seats in 21 of the 36 Senate elections, including seven in states that Obama lost in 2012:

It gets tougher for Republicans in 2016. They must defend 24 seats, including seven in states Obama carried in 2012. Democrats will be defending just 10 seats, all in states Obama carried.
Republicans could win a Senate majority in 30 days by keeping all their current seats and sweeping six states where Obama lost by at least 13.7 percentage points. Montana, South Dakota and West Virginia are open seats, and Democrats are trying to hold on in Alaska, Arkansas and Louisiana.
The races also appear close in some other states, including Iowa and Colorado, that were mildly pro-Obama in 2012.
"If [Republicans] can put an extra seat or two on the scoreboard, they might find that real handy if they have as ugly a year in '16 in the Senate as is entirely possible," political analyst Charlie Cook said at a National Journal midterm election preview on October 2 in Washington.