The Secret Service Lapses Begin to Stack Up
The beleaguered agency now faces revelations that it allowed a man with a gun in the same elevator as the president.
By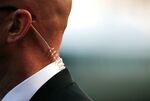 As it turns out, the Secret Service's string of lapses may have started several days before Omar Gonzalez ever jumped the White House fence. On Sept. 16, the Secret Service allowed an armed man with three prior assault and battery convictions to come within close proximity to the president during a trip to Atlanta.