The Secret Service Lapses Begin to Stack Up
The beleaguered agency now faces revelations that it allowed a man with a gun in the same elevator as the president.
By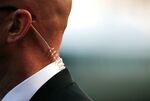 As it turns out, the Secret Service's string of lapses may have started several days before Omar Gonzalez ever jumped the White House fence. On Sept. 16, the Secret Service allowed an armed man with three prior assault and battery convictions to come within close proximity to the president during a trip to Atlanta.
Previously undisclosed, this latest incident was reported by The Washington Post on the same day that Secret Service Director Julia Pierson received a tongue lashing from members of the House Oversight and Government Reform Committee prompted by the White House breach earlier this month.
The president and his Secret Service detail were in an elevator when a CDC security officer stared taking pictures of Obama with his phone. The president's security detail then detained the officer, who was armed, and asked for his gun. 
"You have a convicted felon within arm's reach of the president and they never did a background check," Rep. Jason Chaffetz told the Post. "His life was in danger. This country would be a different world today if he had pulled out his gun."
The officer was not granted special clearance to have a gun while in the presence of the president, the Examiner reported, constituting another major security lapse for the Secret Service. 
"It is another jaw-dropping moment for the Secret Service," Virginia Rep. Gerry Connolly told Bloomberg Politics. "This is an agency that has to adopt as a standard a 100 percent success rate in protecting the president and his family and they are very far from that standard." 
Testifying on Capitol Hill Tuesday, Pierson testified that she briefs the president "100% of the time" when his personal security has been compromised. Pierson also said that such a conversation only happened once this year, following Gonzalez's foray into the White House. The disclosure of the Atlanta elevator incident, however, immediately raised questions about Pierson's testimony. 
Connolly was non-committal when asked whether Pierson, who was promoted to head the Secret Service in March of 2013, should step down. 
"I am withholding judgment on that for now to give her an opportunity to do her review and plan for correction," Connolly said.