Suddenly, It's a Foreign Policy Election
Scott Brown is the first major candidate to campaign on the ISIS threat, but he won't be the last.
By and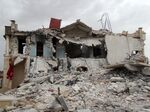 For months, local issues -- not the overarching national affairs defined many of the last decade's biggest midterm contests -- have dominated congressional campaigns around the country. That has started to shift in recent weeks, tracking closely with public-opinion polls, as the U.S. has ramped up its campaign against Islamic militants following the beheadings of two American journalists.