Suddenly, It's a Foreign Policy Election
Scott Brown is the first major candidate to campaign on the ISIS threat, but he won't be the last.
By and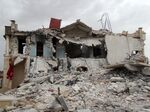 For months, local issues -- not the overarching national affairs defined many of the last decade's biggest midterm contests -- have dominated congressional campaigns around the country. That has started to shift in recent weeks, tracking closely with public-opinion polls, as the U.S. has ramped up its campaign against Islamic militants following the beheadings of two American journalists.
Now, following Monday night's U.S. airstrikes on targets inside Syria, the tricky challenge of addressing complex foreign policy issues on the campaign trail has become an inescapable reality. 
With 42 days to go before the election, candidates around the country will be constantly confronted with questions about the ongoing operations. So will governors with national ambitions (this means you, Chris Christie.)
It's a tough assignment for a political campaign. There's much the candidates can't predict: the retaliatory actions the group may take against hostages, whether regional allies will continue to hold firm, even the unlikely possibility of another terrorist attack on U.S. soil. Another way of looking it: Who was even talking about the Islamic State in June?
The issue already has manifested itself: The National Republican Congressional Committee has launched ads against four Democratic incumbents explicitly questioning Democratic patriotism and willingness to confront the threat. Scott Brown, the former Massachusetts senator now challenging Senator Jeanne Shaheen in New Hampshire, released an ad today seizing on the issue. 
"President Obama and Senator Shaheen seem confused about the nature of the threat," Brown says. "I'm not."
In North Carolina, Thom Tillis, the North Carolina Republican challenging incumbent Senator Kay Hagan, already has alleged that Hagan "inexplicably failed to hold a single hearing" on the Islamic State in her role as chair of a subcommittee on the Senate Armed Services Committee. The state Republican Party has continued to attack on the issue.
In going after Hagan, Tillis is taking on a lawmaker who has developed close ties with some of the nation's premier Army, Air Force and Marine bases. She moved quickly to get out in front of breakdowns in veterans' health care and said she was for more forceful action against the Islamic State before Obama decided to go in that direction.
Campaign strategists already are working to figure out how candidates should position themselves. Do they embrace Obama? Do they call for more robust intervention? Do they dodge the issue entirely and stick to local issues and domestic policies, such as Obamacare?  
"It's hard to know at this point how it's going to play out," said Whit Ayres, a Republican pollster and strategist. ``We'll have to see whether it is a net plus or minus."
For Democratic incumbents, some of whom cut their political teeth with their virulent opposition to the Iraq War, the issue is particularly tenuous. While party lawmakers grumbled about the decision not to consider a new authorization of force -- Obama, somewhat ironically, is relying on the sweeping legal authority granted to the Bush administration to carry out the strikes -- there was limited appetite to have a full-throated debate in either chamber this close to November.
That was clear last week, when lawmakers fled Washington without even debating whether to grant Obama new, tailored authority to attack Islamic state militants. Speaking at the White House this morning, Obama stressed that the U.S. was not operating alone in the region, a message designed to deflect public concerns about unilaterally entering another prolonged conflict.
"The strength of this coalition makes it clear to the world that this is not America's fight alone," he said. "The peoples and governments of the Middle East are rejecting ISIL."
As the U.S. role continues to expand, it is more likely candidates will latch onto the threat posed by the Islamic State and seek to pin their opponents as weak. The tactic was sharply effective in 2004 and with four Republican challengers bringing military backgrounds to the race, there is fertile ground for Republicans to go on the offensive now.
Brown, a retired Army National Guard officer, says in today's ad, aptly titled "Protecting America's Freedom" that "radical Islamists are threatening to cause the collapse of our country." Shaheen's campaign quickly hit back, saying Brown was "trying to score political points to help himself just hours after our military launched air strikes."
Brown's hyperbole aside, the message underscores that a candidate in a tightly contested Senate race is already seizing on the potential political benefits of what is happening in Syria. He likely won't be the last.