South Korean Stocks Rise on Meeting With North Officials
Seonjin Cha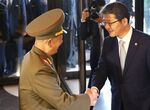 South Korean stocks climbed for the first time in seven days after President Park Geun Hye's top security adviser met with his North Korean counterpart for the first time and agreed to push for improved relations.
The benchmark Kospi index rose 0.4 percent to 1,983 at 9:05 a.m. in Seoul after losing 2.7 percent last week. Hyundai Merchant Marine Co., which owns part of a tour operator in North Korea's Mt. Geumgang resort, jumped 15 percent to pace gains among South Korean companies with cross-border business.
Officials from the two Koreas, which remain technically at war after their conflict in the 1950s failed to end with a peace treaty, met in the South Korean city of Incheon on Oct. 4 and agreed to hold another round of high-level talks in the next two months. An easing of tensions on the peninsula would help boost the appeal of South Korean shares, which trade at the lowest valuations in Asia in part due to the risk of conflict with Kim Jong Un's nuclear-armed North.
"The fact that the top officials have met may improve investors' sentiment on anticipation that the two Koreas are trying to create atmosphere toward dialogue," Heo Pil Seok, the chief executive officer at Midas International Asset Management Ltd., which oversees about $10 billion in Seoul. "Still, it's too early for the meeting itself to give significant impact on the markets as they haven't come up with detailed action plans."
Relative Value
The Kospi index is valued at the same level as its companies' net assets, the lowest level among 14 emerging- and developed-market equity gauges tracked by Bloomberg in Asia.
The measure is 49 percent cheaper than the MSCI All-Country World Index, which trades at 2 times net assets. Global equities rallied on Oct. 3, when South Korean markets were shut for a holiday, as data on American payrolls and services industries boosted confidence in the world's largest economy.
Vice Marshal Hwang Pyong So, political overseer of Kim's 1.2 million troops, met with Kim Kwan Jin, Park's chief security aide, as part of the highest-ranking North Korean delegation to travel to the South since 2009. Hwang's visit took place amid rumors about the health of Kim, who has been out of the public gaze for weeks.
Park has routinely criticized North Korea's nuclear arms development, calling it a major obstacle to better relations between the sides. Since Kim took power in late 2011 after his father Kim Jong Il's death, North Korea has conducted its third nuclear test, drawing tougher UN Security Council sanctions.
At the same time, the South Korean president has said unification of the two countries would create a "bonanza" by combining the North's natural resources with the South's high-tech economy. Unification would boost South Korea's potential growth rate by as much as 1.34 percentage points a year, the nation's finance ministry said in a December 2012 report.
Kim is suffering from blisters and swelling on his ankle while his rule remains unaffected by the ailment, Yonhap News reported Oct. 3, citing unidentified diplomatic sources in Washington. Yonhap said earlier that Kim was believed to have gout, a form of arthritis that's painful though not fatal.
Before it's here, it's on the Bloomberg Terminal.
LEARN MORE