Hong Kong Government Agrees Formal Talks With Protesters
Alfred Liu, Weiyi Lim, Clement Tan and Cathy Chan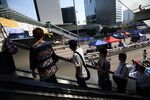 Hong Kong's government and pro-democracy protesters agreed to start formal talks as demonstrations that shut roads and offices in the city showed signs of winding down.
A second preparatory meeting late yesterday resulted in agreement on three key principles, representatives of the government and students told reporters. There will be several rounds of talks, they will be held on an equal footing, and the government must confirm and implement the outcome of the negotiations, the representatives said. Both sides said they hope to start formal talks before Oct. 12.
While the number of protesters on the streets picked up in the evening it remained well below the peak of the demonstrations, which started almost two weeks ago. Student leaders urged their supporters to stay in place and said no agreement will be possible if the government forcibly clears the main protest sites.
We "have a clear stance," Lester Shum, the vice secretary of the Hong Kong Federation of Students, told reporters after yesterday's talks. "Before we've arrived at outcomes from meetings, the government is requested not to use any violence to clear the three protest areas."
The government's representative, Lau Kong-wah, said the discussions were "very, very good." Both sides said the formal talks will be held in public. The agenda and location must still be decided upon and more informal talks may be held today.
'Not Optimistic'
Alex Chow, secretary-general of the Hong Kong Federation of Students, said by text message today that he's "not very optimistic" about the chances of the two sides resolving the issue via talks.
"If they have proposal, they would have given out already," Chow said in response to questions. The struggle over the 2017 elections will move to the city's legislature if talks fail. The students may take further action, he said, declining to disclose potential plans.
The protests were triggered by China's decision that candidates for chief executive in the 2017 elections be vetted by a committee. Pro-democracy groups say that will guarantee the candidates' obedience to China. They're seeking a more open system, as well as the resignation of Chief Executive Leung Chun-ying.
Student leaders had an initial meeting with government officials on Oct. 5 to map out further talks with the city's second-highest ranking official, Chief Secretary Carrie Lam.
Turnout Ebbs
The number of demonstrators fell into the hundreds earlier yesterday, down from a peak of as many as 200,000, and civil servants poured back into their previously blocked-off offices. Students removed some barricades in response to an ultimatum from the city's leader to restore access or face police action.
"I'm disappointed that the turnout is low, but this is Hong Kong -- people have to make a living and earn money," said William Tsang, 32, who was putting up posters that read: We have only one shot, don't give up. "I am not satisfied with the government even though they are now moving toward formal talks with us."
Police allowed barriers erected by demonstrators to remain on roads unmanned after student leaders said they'd pull out of talks aimed at resolving the city's biggest upheaval since the 1960s if protest sites weren't protected.
'Worn Out'
"I'm sure people will thin out because people get worn out," Next Media Ltd. Chairman Jimmy Lai, publisher of the Hong Kong newspaper that's most-critical of Chinese rule and an advocate of the protesters, said in an interview. "I'm sure the government in the talks will promise something that will appease people temporarily. But when promises are broken, people will come back."
The Hong Kong legislature will consider a motion tomorrow from pro-democracy lawmaker Alan Leong to debate the handling of protests by the government and police, according to a press release posted on the government website.
Hong Kong's benchmark stock index and its currency rose as a sense of normality returned to the city of 7.2 million people. The Hang Seng Index gained 1.1 percent at the close yesterday, the most in a month.
"The risk around the student protest escalating into something more severe appears to have dissipated," Tim Schroeders, a portfolio manager who helps oversee $1 billion in equities at Pengana Capital Ltd. in Melbourne, said by e-mail today. "The Hong Kong markets may be marginally stronger today as the likelihood of business as usual increases in Hong Kong."
Bank Branches
Secondary schools in two districts resumed after being shut last week and primary schools will resume today, the city's Education Bureau said.
In the Central business district, bankers and traders returned to work. Citigroup Inc. said disruptions have been limited. The Hong Kong Monetary Authority asked banks to resume services as soon as possible, it said in a statement. Seven bank branches remained closed, it said. Almost 50 branches were shuttered at the peak of the protests last week.
Protesters had gathered at Admiralty, the main protest site, as well as Causeway Bay and Mong Kok, two popular shopping districts. Demonstrators were mocked in Causeway Bay and Mong Kok, as some people criticized them for the blockades, with the protesters responding by singing "Happy Birthday."
While tensions eased, the students' main demands -- Leung's resignation and China standing down on plans to vet candidates - - have been rejected out of hand, complicating chances of a negotiated solution. There are also signs that many of the remaining protesters don't answer to the student leaders.
Removing Barricades
"Any decision will be taken to a vote among all present," said Sunny Cheung, 18, a student protester at Causeway Bay. "If the police clear us by force, we will leave because personal safety is our top priority. But if our aim of natural suffrage is not achieved, we will keep regathering here or somewhere else."
As students began removing some barricades near the government offices, where 3,000 civil servants work, other protesters appeared to reinstate them. When leaders of Occupy Central with Love and Peace, a group allied with the students, called for demonstrators to leave the Mong Kok site on Oct. 5 because of fears of renewed attacks on protesters there, numbers swelled rather than diminished.
Tear Gas
"The leaders of the protesters don't have very good discipline over their participants," said Michael Davis, a law professor at the University of Hong Kong. "So they have a hard time doing what I suspect they want to do, which is to declare a victory in round one and withdraw, and then go to round two if the government is non-responsive and offers the usual indifference and lecture on Beijing's requirements."
The protests began on Sept. 26 when students stormed the premises of the government headquarters. The numbers of demonstrators surged after Sept. 28 when police used pepper spray and tear gas on unarmed students.
Students estimated that as many as 200,000 people demonstrated on Oct. 2 at the three sites in the biggest challenge to the Chinese Communist Party's authority over the city since the then-British colony was handed back in 1997. Police haven't given any estimates on the size of the crowds.
"We have won this," said Olivia Chan, 26, an employee at a non-government organization, who was present when the police used tear gas on Sept. 28. "How often do you see such a big-scale, self-initiated protest? It may be even larger than the Tiananmen demonstration. We need to sacrifice for democracy."
Before it's here, it's on the Bloomberg Terminal.
LEARN MORE