Hong Kong Democracy Hopes Set at Li Ka-shing's 1989 Meal
David Tweed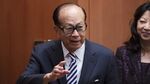 In February 1989 in the then-British colony of Hong Kong, billionaire Li Ka-shing hosted a dim-sum lunch at the Eagle's Nest restaurant on the top floor of the now demolished Hilton Hotel on central Queen's Road.
Present were 59 members of the drafting committee for Hong Kong's Basic Law -- its mini-constitution: 36 mainlanders and 23 Hong Kongers, according to Martin Lee, who attended. A month earlier, the contingent from China arrived to gauge how much Hong Kongers wanted democracy, said Lee, 76, the founding chairman of the Democratic Party.
"At the lunch, they came up to me and said: 'Mr Lee, you told us how much people in Hong Kong want democracy. Well, you were right. We've seen it with our own eyes,'" Lee said in an interview.
He and three others left the committee months later, after the Tiananmen Square crackdown on pro-democracy protesters, with the rest agreeing to eventually hold leadership elections in a city that since 1842 was run by a governor appointed without consultation by a colonial master nearly 6,000 miles away.
While the Basic Law fed the yearnings of Hong Kong's pro-democracy movement, its authors left another legacy. By agreeing that the leader would be chosen by "universal suffrage upon nomination by a broadly representative nominating committee in accordance with democratic procedures," they planted enough ambiguity to let a future government in Beijing impose a system that critics say precludes full democracy.
Road's End
The crisis was brought to a head on Aug. 31 this year when China's National People's Congress said it had the right to vet candidates. The pro-democracy movement in Hong Kong was "aghast," said James Rice, an assistant professor of philosophy and law at Hong Kong's Lingnan University, who has written about Hong Kong's constitution.
A month later thousands of students poured onto the streets to demand China retract its decision and that current chief executive Leung Chun-ying resign.
"There was a realization that this was the end of the road," said Rice. "This was it. This was the deal they were going to get and that explains the traction that this got."
When the mostly peaceful crowd attempted to ward off police pepper spray and barrages of tear gas on Sept. 28 they held up umbrellas, giving rise to the sobriquet "Umbrella Revolution." Since then the movement has gained support from rallies in countries from Singapore to France, with tens of thousands pouring on to the streets at home to support the students even as opposition has grown from other Hong Kongers annoyed by disruption to their daily lives.
Great Hall
The seeds of Hong Kong's democratic aspirations lay in a visit to Beijing by British Prime Minister Margaret Thatcher in September 1982, where she met leader Deng Xiaoping.
In the Great Hall of the People, Thatcher reminded Deng that while China had a claim to the New Territories, Kowloon to the south and Hong Kong island were ceded in perpetuity. If China wanted sovereignty of all of it, Deng must consider Britain's recommendation on the future administration of the area, Thatcher said, according to Robert Cottrell's book "The End of Hong Kong: The Secret Diplomacy of Imperial Retreat."
Deng responded that he was prepared to enter discussions, though if they failed to produce an agreement acceptable to China within two years, the mainland would announce its own policies for Hong Kong unilaterally, Cottrell's book recounts.
'Sea Change'
The negotiation that followed led to the Sino-British Joint Declaration, a roadmap for how Hong Kong would be administered with a "high degree of autonomy." Inherent in the pact was the principle of "one country, two systems," where Hong Kong would preserve its capitalist economic, legal and political system for 50 years.
The Joint Declaration included a clause that Hong Kong's future chief executive be appointed "by election or through consultations held locally."
"This single paragraph in Annex 1 to the Joint Declaration would bring up a sea change to our political system," said Martin Lee. The British managed to get the "concept" of democracy into the declaration, Lee said, but the paragraph was "vague." The details were left to the non-British drafters of the Basic Law.
Seventeen years after China assumed control, Hong Kong still has the trappings of partial democracy.
Free Speech
Lawmakers of the 70 member Legislative Council can reject legislation if they muster enough votes. Hong Kong has the right to free speech and assembly, witnessed every year when the Tiananmen crackdown is commemorated in Victoria Park with a candlelit vigil, followed by a march.
Falun Gong, a spiritual group banned in China since 1999, exists in Hong Kong, even after then-top official Tung Chee-hwa said in 2001 the group bore "some characteristics of an evil cult."
The city's government has been known to yield to public pressure: two years ago, when as many as 120,000 joined student-led rallies against the introduction of Chinese identity education in schools; and in 2003, when half a million rallied against a sedition law that was withdrawn.
Economically Hong Kong benefited from the relationship, becoming the gateway to China for many foreign firms. Since the 1997 handover the economy has grown by half to $274 billion at the end of 2013. Its importance to China, on the other hand, has diminished. Hong Kong's economy represented just 3 percent of China's GDP in 2013, down from 19 percent in 1997, according to Bloomberg calculations based on World Bank annualized data.
Wealth Divide
While Hong Kong has grown, so has inequality. About 1.3 million people, or 19.6 percent of the population, lived below the poverty line in 2012, according to a report commissioned by Hong Kong's government released in 2013.
The number of millionaires in the city rose 35.7 percent to 114,000 in 2012, a report by Cap Gemini SA and Royal Bank of Canada showed. Hong Kong is home to four of the richest men in Asia: Li Ka-shing, Lee Shau-kee, Lui Che-woo and Cheng Yu-tung, who have a combined net worth of $83.5 billion, according to the Bloomberg Billionaires Index.
The wealth divide has fueled a perception that the local government and rulers in Beijing are more concerned with catering to the interests of tycoons than looking after ordinary citizens. Li Ka-shing was among a delegation of dozens of Hong Kong tycoons, business leaders and media barons who personally met with President Xi Jinping in Beijing days before the current protests erupted.
'Fingers Crossed'
Buying an apartment is out of reach for many: Hong Kong was the least affordable property market in the third quarter of last year, according to a survey of 360 markets in nine countries by Demographia, a consulting firm in Belleville, Illinois.
Hong Kongers are concerned that China is meddling in local affairs, including a policy paper in June where China said the autonomy of Hong Kong was not an inherent right.
The protesters "hope with fingers crossed that a democratically elected chief executive will deliver some kind of social justice," said Willy Wo-Lap Lam, adjunct professor at the Centre for China Studies at the Chinese University of Hong Kong.
China's increasing presence is also being felt on the streets: visitors from the mainland in record numbers are spurring resentment in some eateries and malls.
"They're competing with them not just for goods but also for their space," said Dylan Loh, a researcher of Chinese politics at the S. Rajaratnam School of International Studies in Singapore. "They feel that perhaps their Hong Kong way of life as they know it is being threatened as well."
'A Pity'
Laura Cheung, a spokeswoman for Li Ka-shing, who organized the lunch at the Hilton and was a member of the Basic Law drafting committee, didn't immediately reply to an e-mail seeking comment outside of regular business hours.
Looking back, Martin Lee recollects after the lunch a second draft was drawn up that held out another promise: a referendum was to be conducted to decide whether to elect the chief executive. That was dropped in the final version.
"At the time I thought 'Fine,' but looking back, I'd rather have the referendum," said Lee. "What a pity."
Before it's here, it's on the Bloomberg Terminal.
LEARN MORE