Hong Kong Crisis Shows Police Learned Lessons of Tahrir, Maidan
Mark Niquette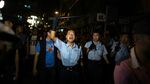 Police around the world, who once routinely handled demonstrations such as Hong Kong's pro-democracy dissent with batons and tear gas, face new dilemmas in an age when dissident crowds are armed with smartphones, Facebook and Twitter.
Tough tactics, flashed around the world by social media, can incite demonstrators and undermine a government's legitimacy, as happened in Cairo's Tahrir Square and Kiev's Maidan. Tactics for defusing conflict include avoiding riot gear, deciding early which actions merit arrest and soothing protesters by opening lines of communication, said Chuck Wexler, executive director of the Washington-based Police Executive Research Forum. In Hong Kong, authorities eased an early crackdown, and protesters yesterday began allowing access to government buildings.
"The days of a strong show of force no longer apply," said Wexler, whose group consults law-enforcement officials to devise model practices. "Today, police have to be much more strategic and think about ways to de-escalate situations."
The initial response of Hong Kong police underscores what police have come to understand: Trying to intimidate or manage a crowd often has the opposite effect, Wexler said.
Early Action
Hong Kong officers in riot gear lobbed tear gas at crowds on Sept. 28, then took a less aggressive stance as demonstrations continued. Police yesterday removed obstacles from the road near the government complex without interference by demonstrators, who oppose China's decision that a committee will vet candidates for the 2017 election of chief executive. Critics say the system will produce a leader for the semi-autonomous city who is effectively handpicked by the Beijing government.
Chief Executive Leung Chun-ying had made today the deadline for opening access to barricaded offices. In a televised address, he said police had the "responsibility and determination to take any necessary action."
A group of 80 professors and academics from Hong Kong universities issued a statement urging restraint, saying "brutal suppression" would have greater consequences than just continuing the stalemate.
"It will also trigger further escalation of the conflict in the community and bring more rigorous counter action," the statement said. "The resulting damage will be hard to heal."
Experiential Learning
Police around the globe have ample experience with controlling dissent in recent years. In the U.S., the response is generally determined by the actions of the protesters, said Raymond Kelly, a former New York City police commissioner who oversaw protests at the Republican National Convention in 2004 and the Occupy Wall Street movement in 2011.
After 1991 riots in the Crown Heights section of Brooklyn, which erupted after a Jewish driver accidentally struck and killed the 7-year-old son of Guyanese immigrants, the department issued a manual still in use today. It addresses tactical formations and warns officers that they should act as a team, Kelly said.
"You learn some of it by trial and error, but I think generally speaking, police are better trained now and have better tactics," said Kelly, who is president of risk management services for real-estate brokerage Cushman & Wakefield Inc. in New York. Kelly worked from 2002 through 2013 under former Mayor Michael Bloomberg, the founder and majority owner of Bloomberg News parent Bloomberg LP.
Delicate Balance
Kelly said one example of a botched response was in Ferguson, Missouri, when police responded to protests over the Aug. 9 killing of an unarmed black teenager by a white police officer with military-style equipment, tear gas and rubber bullets. Images of armored officers pointing guns at protesters with their hands up, a gesture repeated in images from Hong Kong, fueled days of unrest.
Wexler's organization produced a 2011 report that includes recommendations for crowd management, from taking time for planning and training, to shutting down vehicle access to streets with high pedestrian traffic and keeping officers mobile. Force should be a last resort, he said.
Other tactics that police have adopted include acquiring expensive sound equipment to better communicate with protesters for blocks, said Clark McPhail, an emeritus sociology professor at University of Illinois Urbana-Champaign who has studied crowd behavior and policing protests. Some have used tactics such as "kettling," where groups are surrounded or barricaded for hours and then gradually released.
President Topples
Police walk a fine line of avoiding excessive aggression while protecting people and property, said Eugene O'Donnell, professor of law and police studies at John Jay College of Criminal Justice in New York.
"What success is and how you define it is obviously very dependent on the time, place and circumstances of the demonstration," he said.
In other countries, police response has had momentous consequences.
Decades of onerous security under former Egypt President Hosni Mubarak helped trigger a 2011 uprising in Tahrir Square that brought throngs of protesters to the open space in Cairo and led to Mubarak's ouster.
Police would form a line and shoot tear gas at unarmed protesters, beat them with batons, pull them by their hair and use "state-sponsored thugs masquerading as civilians," said activist Wael Eskandar, who participated in what is known as the January 25 Revolution.
"Police have always reacted violently to protests, but the level of police violence has been inversely proportional to the backlash of the public," Eskandar said.
Rekindling Rage
Police brutality plunged Ukraine into civil conflict and revolution just as protests in the capital, Kiev, began to wane over President Viktor Yanukovych's decision not to sign a trade agreement with the European Union in November 2013.
The Berkut riot police force used batons and shields to clear a few hundred demonstrators, mostly students, from the main Independence Square, or Maidan. Anger at the violence reignited the protests, and as many as 500,000 people took to the streets the next day.
"That beating on Maidan affected further events very much," said Oleksiy Hrytsenko, a former activist now serving in the Ukrainian army who said he was among the protesters beaten in the first days. "The people's initiative had been withering and it was a new impulse. A lot of people in Ukraine realized they are completely unsafe."
Viral Violence
More than 100 people died in three days of fighting. It was the country's worst violence since World War II. Protesters rejected a Feb. 21 compromise between Yanukovych and opposition leaders and the then-president fled to Russia the following day.
Of course, while repression can stop a protest, it comes at a price. In 1989, China sent soldiers and tanks to break up pro-democracy demonstrations in Beijing's Tiananmen Square and hundreds of people are believed to have died. The Chinese leadership remained stable, though it drew a storm of international condemnation.
While it's difficult to compare actions in countries with varying levels of free expression, most large departments try to avoid militaristic responses, said Darrel Stephens, executive director of the Major Cities Chiefs Association. His group includes 77 municipalities in the U.S., Canada and the U.K.
That involves engaging protesters and trying to reach an understanding about the parameters of the demonstration that allows dissenters to exercise their rights while maintaining order, Stephens said. Some departments recruit protesters to help monitor a crowd. Police learn from past successes and failures, he said.
"Heavy-handed tactics to a peaceful crowd have unintended consequences," Wexler said.
Before it's here, it's on the Bloomberg Terminal.
LEARN MORE