Fincher's 'Gone Girl' Tops Box Office With $37.5 Million
Anousha Sakoui and Esmé E. Deprez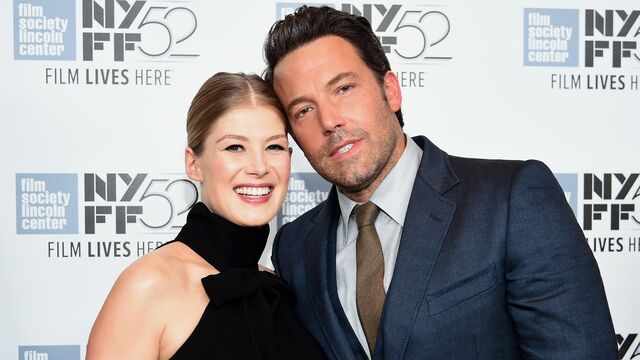 "Gone Girl," the David Fincher- directed thriller based on the best-selling novel by Gillian Flynn, opened as the No. 1 weekend film in U.S. and Canadian cinemas, drawing a mostly female audience.
Starring Ben Affleck and Rosamund Pike, the feature from 21st Century Fox Inc. collected $37.5 million in its debut, Rentrak Corp. said today in an e-mailed statement. The horror film "Annabelle" opened in second place, with $37.1 million for Time Warner Inc.'s Warner Bros. and New Line. Audiences for both skewed female, at 60 percent and 55 percent, respectively.
After a summer of comic-book superhero tales, "Gone Girl" brings to the screen a picture with tension, murder, mystery and a dedicated fan base. Several films based on bestsellers have scored successful debuts this year, including "Divergent" from Lions Gate Entertainment Corp. and "The Fault in Our Stars" from Fox.
"The stereotype is that women drive the typical young-adult films or romantic comedies or action-epics with female protagonists, like the Hunger Games," said Paul Dergarabedian, senior media analyst at Rentrak, in a phone interview yesterday. "This weekend shows that a sophisticated drama or horror movie can also draw them. That's very important for Hollywood to take note of."
Fincher's version of "Gone Girl" tells the story of New York writer Nick Dunne and his wife Amy, whose relationship falls apart after they move to Missouri to look after Dunne's sick mother.
Affleck, Harris
When Amy goes missing, Dunne becomes the prime suspect in her murder and the mystery of her disappearance unravels under the gaze of scrutinizing media.
Affleck returns to a role in front of the camera in "Gone Girl" after establishing himself as a successful director with the Oscar-winning "Argo." He plays Dunne, while Pike takes the role of Amy. Neil Patrick Harris stars as Amy's ex-boyfriend, who gets wrapped up in the mystery.
Fincher brings a winning record for drama to the screen, including for his film "The Social Network" from 2010. He also directed the first two episodes of the Netflix Inc. series "House of Cards."
His latest film cost $61 million to make, according to Box Office Mojo, and was expected to generate $31 million in weekend sales, Boxoffice.com estimated.
Artemple - Hollywood and New Regency produced and financed the film, which was distributed by Fox.
Good Review
"Gone Girl" scored strong reviews and has generated buzz for an Oscar nomination. It scored 87 percent positive reviews, according to review aggregator Rottentomatoes.com.
"Mr. Fincher's compositions, camera work and cutting are, as always, superbly controlled," Manohla Dargis wrote in the New York Times. "He fashions an ever more haunted, haunting world that wavers so violently between ordinariness and aberration that, as in his other movies, the two soon blur."
In "Annabelle," a couple begin to experience terrifying supernatural occurrences involving a vintage doll shortly after their home is invaded by satanists.
The Warner Bros. horror movie from director John Leonetti - - the cinematographer on both "The Conjuring," a prequel to the current film, and "The Mask," -- was forecast by Boxoffice.com to produce sales of $27 million in its debut. The film cost an estimated $5 million to make, according to Imdb.com.
Annabelle Wallis stars as Mia and Ward Horton is John, a couple who are terrorized by sinister conduit Annabelle. The film didn't impress critics, garnering 32 percent positive reviews at Rottentomatoes.com.
The Equalizer
"The title character remains an impressive piece of propwork, and Leonetti's restraint in never animating it (à la Chucky) is the only thing worth appreciating here," Joshua Rothkopf wrote in Time Out magazine. The humans didn't fare as well with the critic, who calls them "as plastic as Barbie dolls."
Among returning films, "The Equalizer," featuring Denzel Washington in Sony Corp.'s home-invasion thriller, collected $18 million to place third. The film has generated $64.5 million in domestic theaters since its Sept. 26 debut.
Weekend sales for the top 10 films rose 22 percent to $136.2 million from a year earlier, Rentrak said. Sales for the year to date have fallen 4.8 percent to $7.88 billion.
The following table has U.S. movie box-office figures provided by studios to Rentrak. The amounts are based on gross ticket sales for Oct. 3 to Oct. 5.
                     Rev.    Pct.             Avg./    Total
Movie               (mln)    Chg. Theaters  Theater    (mln) Wks
================================================================
 1 Gone Girl         $37.5    --    3,014  $12,446    $37.5    1
 2 Annabelle          37.1    --    3,185   11,659     37.1    1
 3 Equalizer          18.8   -45    3,236    5,794     64.2    2
 4 Boxtrolls          12.0   -31    3,464    3,458     32.1    2
 5 Maze Runner        11.6   -33    3,605    3,227     73.6    3
 6 Left Behind         6.3    --    1,825    3,452      6.3    1
 7 Where I Leave You   4.0   -42    2,735    1,466     29.0    3
 8 Dolphin Tale 2      3.4   -29    2,790    1,227     37.9    4
 9 Guardians Of Galaxy 3.0   -20    1,894    1,587    323.3   10
10 No Good Deed        2.5   -45    1,580    1,582     50.2    4



Top 10 Films Grosses



   This Week     Year Ago      Pct.
     (mln)         (mln)       Chg.
===================================
    $136.2        $111.5       +22



Year-to-date Revenue



     2014          2013
      YTD           YTD        Pct.
     (mln)         (mln)       Chg.
===================================
    $7,882        $8,277      -4.8

Source: Rentrak Corp.
Before it's here, it's on the Bloomberg Terminal.
LEARN MORE