Catalan Standoff to Hit Spain Economy, Whoever Wins
Angeline Benoit and Esteban Duarte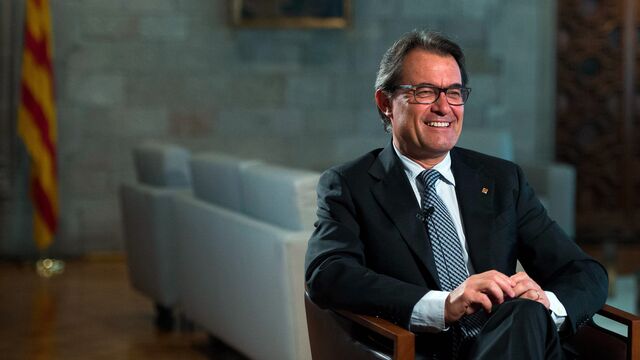 Spanish Prime Minister Mariano Rajoy is battling to keep his country together, facing down Catalan separatists. Even if he wins, the standoff risks weakening the economy that the two sides are fighting over.
Catalan President Artur Mas, backed by about two-thirds of the region's lawmakers, is defying orders from Spain's highest court and pressing ahead with a vote on independence on Nov. 9. The wrangling last week pushed the gap between Spanish and German bond yields to the widest since Scotland voted to remain in the U.K., while support for Rajoy's People's Party is tumbling, according to a poll published by El Pais yesterday.
"Investors are pricing the risk of political instability in Catalonia," said Francesco Marani, a fixed-income trader at Auriga Global Investors SA in Madrid, who trades government and regional debt. "The independence issue has already been hurting the Spanish economy, and it's not over."
Spain's economy is losing momentum amid a slowdown for its European trading partners. Uncertainty over the future of Catalonia, whose contribution to the Spanish economy is twice that of Scotland's to the U.K., risks undermining investment as well as pushing up borrowing costs and distracting politicians from tackling the 24 percent jobless rate.
Higher Yields
The extra yield investors demand to lend to Spain for 10 years instead of Germany widened by six basis points to 124 basis points at 4:05 p.m. in Madrid today. That compares with 111 basis points on Sept. 5, which was the tightest since May 2010. Analysts at UBS AG forecast the spread may widen to as much as 170 basis points over the coming months.
"Now is where the uncertainty begins," Justin Knight, a London-based European rates strategist at UBS said in a telephone interview after the Constitutional Court agreed to consider the central government's challenge to the vote last week. That triggered an automatic suspension of the ballot while the judges consider whether it is legal.
Despite that ruling, a poll commissioned by the Catalan regional government and published on Oct. 3 showed 71 percent of Catalans want the independence vote to be held next month.
As protesters keep up the pressure on Mas, a poll yesterday showed that his strongest ally in the regional parliament, Esquerra Republicana, would win a regional election if one were held now. Esquerra has a longer track record of fighting for independence and has been pushing Mas to take a harder line against the Spanish courts.
October Deadline
The Catalan government will need the Constitutional Court to make a decision by Oct. 15 if it is to have time to organize the vote on Nov. 9, the regional government spokesman Francesc Homs told Catalunya Radio today. Esquerra spokeswoman Anna Simo asked Homs whether that date would "certify the death" of the independence process, in a separate press conference.
Catalonia, which borders France, has its own language and the semi-autonomous government controls education, health care and a regional police force.
As early as the 13th century, Catalonia had its own parliament during an alliance with the Aragonese, a confederation that expanded to rule over Mediterranean regions including Sardinia and Corsica in the 14th century, according to The New Spaniards (Penguin 1995) by John Hooper. Following a revival based on commerce in the 19th century, Barcelona today is home to some of the nation's largest companies, including CaixaBank and Gas Natural SDG SA.
'Uncharted Territory'
Secession by Catalonia would cost Spain 20 percent of its economic output and trigger a row about how to carve up the sovereign's 836 billion euros ($1.1 trillion) of debt. Catalan banks would lose European Central Bank access, Bank of Spain Governor Luis Maria Linde said last week.
The extra yield investors get for holding Catalonia's 2020 bonds rather than comparable Spanish debt was 148 basis points today compared with 101 basis points in July, according to data compiled by Bloomberg. An increase in that gap signals a deterioration of investors' risk perception.
The political standoff is complicating Rajoy's work on the economy, while a slowdown in the euro region prompted Economy Minister Luis de Guindos to give up on a 1.5 percent growth estimate for this year. The government now expects a 1.3 percent expansion for the euro region's fourth-largest economy, and sees unemployment remaining close to 25 percent before falling to 23 percent in 2015.
Starting Dialogue
Responding to the tension in Barcelona this weekend, Rajoy told a gathering of his party's lawmakers on Oct. 4 he is willing to start a "dialogue." One way out of the impasse may be to grant Catalonia greater control over its taxes, just as U.K. leaders offered Scotland more power in the final weeks of the Scottish campaign.
For now, the central government is focused on its legal response. State lawyers today asked the Constitutional Court to block the creation of a committee to oversee the vote that Mas had ordered last week, a Madrid-based press officer for the Justice Ministry said by phone.
"Frictions with the central government are likely to persist," said Timo del Carpio, an economist at RBC Capital Markets in London.
Before it's here, it's on the Bloomberg Terminal.
LEARN MORE