6 Things You Need to Know About Brown Vs. Shaheen
The extremely tight Senate race in New Hampshire can come down to Monday's debate.
Annie Linskey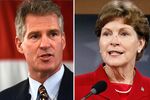 When U.S. Senator Jeanne Shaheen debates challenger Scott Brown at noon on Monday in New Hampshire, it will be a meeting of opposites—and the kind of high-stakes moment (many polls show a dead heat) that both have faced repeatedly. Four years ago in Massachusetts, Brown defeated Martha Coakley in a special election partly on the strength of a strong debate performance—then lost to Elizabeth Warren in 2012 after being too aggressive on stage. Shaheen lost to John Sununu in 2002, but methodically dismantled him in a series of unexciting but effective debates in 2008. While the issues are different this year, their debate pasts are liable to be prologue. 
1. Brown can win or lose with a single line
Brown has the proven ability to change an entire race with one line. As he debated Coakley during the 2010 campaign to replace Senator Edward Kennedy, moderator David Gergen asked whether Brown would be willing to "sit in Teddy Kennedy's seat" and cast a vote to kill health care reform, an issue that Kennedy had dedicated his career to supporting. "Well, with all due respect, it's not the Kennedys' seat and it's not the Democrats' seat," Brown said. "It's the people's seat. And they have a chance to send someone down there who is going to be an independent voter and an independent thinker and going to look out for the best interests of Massachusetts."  
Obviously prepared, the line was flawlessly delivered, and it surgically removed one of the legs of Coakley's campaign. She never recovered.

But Brown's aggression also cost him. Within the first three minutes of a September 2012 debate, he went after Warren over an issue that had been bleeding her campaign for weeks — her listing herself in a directory as having Native American ancestry. "Professor Warren claimed that she was a Native American. A person of color." Then Brown gestured to her for the punchline. "As you can see, she's not."
The move felt somehow too personal — and it ultimately seemed to cauterize the problem for Warren and even earn her sympathy.
2. Shaheen wins by going the distance
Shaheen's attacks tend to be far subtler, with the occasional and somewhat timid jab that focus on policy differences. During the 2008 Senate debate, Sununu argued against a federal law that would require union ballots to be open. Shaheen noted that the state had already passed a similar law and as he listed concerns with the idea she made a rare interruption, saying: "We haven't seen a problem."
There are no knockouts in Shaheen's record. But in 2008, she convincingly defeated Sununu by pounding and pounding, good naturedly, on his connection to the Bush administration.
In one instance in 2008, Sununu pointed out that 15 newspapers that had endorsed her in their 2002 contest, which Sununu won, switched sides and picked him this time. "I hope they help you as much as they helped me in 2002," she said.
3. Both make critical mistakes
Both candidates have had memorable and costly brain farts. During an October 2008 debate, the moderator, bringing up the meme that Shaheen took positions based on political expediency rather than conviction, challenged her to name an unpopular program that she supported regardless. She first mentioned combating global warming — certainly not an answer to the question – then hemmed and hawed for what seemed like a full minute, indelibly imprinting the criticism.
Brown, who takes more risks, also is liable to make more mistakes. And he's also vulnerable to losing his way.  When asked during the 2012 campaign to name his favorite Supreme Court justice,  Brown offered Antonin Scalia —  a bad mistake in blue Massachusetts (the crowd booed).
4. The debate will come down to just a few issues
The two words most likely to be heard from Scott Brown during the debate are "Barack" and "Obama." He likes to remind voters that Shaheen has supported the president "99 percent of the time."  His debate prep team likely is testing multiple variations of this thought, with a goal of creating a phrase that will dominate the last month of the campaign, according to a Democratic strategist who helped Warren prepare for her debates.
Tying an incumbent to an unpopular president can be a potent strategy, as Shaheen knows. In 2008, she politely pummeled. "Unfortunately, what we're experiencing now in this country is the results of the failed economic policies of the Bush administration. Policies that my opponent, John Sununu, supported 90 percent of the time."

Brown also will likely attack Shaheen for failing to take seriously the threat from the Islamic State, a theme he hits in his television commercials. The spots show him in fatigues, a visual reminder of his military background—he served for nearly 35 years in the Army National Guard. And they provide another way to link Shaheen to Obama – he has said that he underestimated the threat and she skipped an April committee hearing on the topic. The issue has surprising resonance in New Hampshire because both of the Islamic State's American victims had ties to the Granite State.
Shaheen likes to remind voters that she's been "working for the people of New Hampshire for the past 18 years," a subtle dig against Brown, who moved to the state full time in December.  A more full-throated critique of Brown's carpetbagging — and the cynical political calculation it might entail — is a near certainty, as is a carefully planned counterpunch. And the border between the states is porous, with many Granite Staters having Massachusetts roots, so it's unclear how much traction the issue has. 
5. The gender gap is everything in this debate
The debate and the race is liable to turn on women. In the 2012 Brown ran about 18 percentage points behind Warren among women, according to CNN exit polls. New Hampshire polls show that the gender gap persists – he trails Shaheen by about 12 percentage points with women.
Brown points to his pro-abortion rights stance, including voting to protect funding for Planned Parenthood, his support of the Violence Against Women Act, and his views that women should be allowed to serve in combat roles. But he's also taken problematic votes on issues of special interest to women,  including equal pay. In debates, Brown has two well-honed response on women's issues. He evokes his wife and two daughters ("You should stop scaring women," Brown told Warren in a September 2012 debate. "I have a house full of women.") and his unusual biography:  ("I've been fighting for women's rights since I was 6 years old – since I had to battle when my mom was being abused by one of my stepfathers," he said later in that debate. "So I've been fighting for women for a long, long time."
Brown has a familiar construct to deflect attacks or interruptions from opponents. In 2010 as Coakley quizzed him on his abortion stance, Brown retorted with this: "I'm not a defendant. I'm not in your courtroom." Two years later, as Warren tried to interrupt him while speaking, Brown shut her down with this: "Excuse me, I'm not a student in your classroom. Please let me respond." 
6. We know what they will wear
Shaheen likes red. She wore nearly identical red pantsuits in three debates over 10 years, all broadcast by the same television station. The outfit appeared in 1998 for her gubernatorial debate on WMUR,  in 2000 for another gubernatorial debate and again in 2008 for the Senate debate. A different version of the ensemble — a red suit with a black collar — debuted in her 1996 gubernatorial debate on WMUR and came out again for the station's 2002 Senate debate.
Brown's debate wardrobe isn't as remarkable as his campaigning uniform — the barn jacket that dates to at least 2009 and the pickup truck.