6 Things You Need to Know About Brown Vs. Shaheen
The extremely tight Senate race in New Hampshire can come down to Monday's debate.
Annie Linskey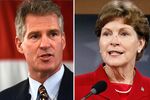 When U.S. Senator Jeanne Shaheen debates challenger Scott Brown at noon on Monday in New Hampshire, it will be a meeting of opposites—and the kind of high-stakes moment (many polls show a dead heat) that both have faced repeatedly. Four years ago in Massachusetts, Brown defeated Martha Coakley in a special election partly on the strength of a strong debate performance—then lost to Elizabeth Warren in 2012 after being too aggressive on stage. Shaheen lost to John Sununu in 2002, but methodically dismantled him in a series of unexciting but effective debates in 2008. While the issues are different this year, their debate pasts are liable to be prologue.