'Big Gun' Surrogates May Do More Harm Than Good
Bill Clinton is the only politician whose endorsement may really matter.
By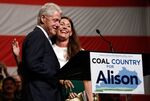 Chris Christie to Iowa, Michelle Obama to Wisconsin, Hillary Clinton to Kentucky, Mitt Romney to Colorado. Yes, at this late stage in the mid-term elections, it is definitely time to call out the so-called "big guns."  But does the arrival of a high profile political celebrity actually do much good for the lower tier candidate's chances of winning? 
A new Wall Street Journal/NBC News/Annenberg survey of registered voters found that, other than Bill Clinton, Hillary Clinton, and Michelle Obama, no politician's endorsement caused voters to look at the candidate more favorably. 
While a high-profile endorsement by Bill Clinton made 35 percent of voters look upon a candidate more favorably, 24 percent said that it would do the opposite, an impressive 11 point differential. The nod given by Hillary Clinton and Michelle Obama results in a 1 percent favorable margin, but every other candidate, including President Obama, Rand Paul, and Mitt Romney, received a net negative result. 
Of course, there's more to surrogacy than simply getting voters to take a fresh look at the candidates. An appearance by Ted Cruz or Elizabeth Warren can whip up the base and boost turnout on Election Day. And for those "big guns" with presidential aspirations of their own, campaigning on behalf of those politicians who find themselves in close races is both practice for, and an investment in, bigger showdowns to come.