'Big Gun' Surrogates May Do More Harm Than Good
Bill Clinton is the only politician whose endorsement may really matter.
By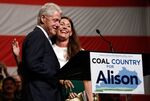 Chris Christie to Iowa, Michelle Obama to Wisconsin, Hillary Clinton to Kentucky, Mitt Romney to Colorado. Yes, at this late stage in the mid-term elections, it is definitely time to call out the so-called "big guns."  But does the arrival of a high profile political celebrity actually do much good for the lower tier candidate's chances of winning?