Biden Calls to U.A.E. to 'Clarify' Islamic State Comments
Ben Holland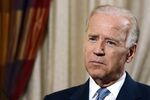 Vice President Joe Biden made his second call in two days to a key U.S. ally in the Middle East, after suggesting they had facilitated the spread of Islamist militants in Syria.
Biden called Sheikh Mohamed bin Zayed Al Nahyan, deputy head of the United Arab Emirates armed forces and Abu Dhabi's crown prince, to clarify that "his recent remarks regarding the early stages of the conflict in Syria were not meant to imply that the U.A.E. had facilitated or supported" extremist groups, the vice president's office said today in an e-mailed statement.
The U.A.E.'s official news agency WAM said Biden had apologized to Sheikh Mohamed for the comments. Yesterday, the vice president made a similar call to Turkish President Recep Tayyip Erdogan, according to the White House. Both conversations followed comments Biden made at Harvard University on Oct. 2.
He told students that countries including Turkey, the U.A.E. and Saudi Arabia were so eager to topple Syrian President Bashar al-Assad that they backed militant Islamists who were fighting against him, according to the Associated Press.
The U.A.E. is one of the Arab nations to have joined in U.S.-led military strikes against Islamic State in Syria. Turkey, a NATO member that shares a border with Syria, has also said it will join the campaign against the group, without specifying how.
Before it's here, it's on the Bloomberg Terminal.
LEARN MORE