Ukraine Battles Dent Poroshenko Optimism on Arms Pullback
Aliaksandr Kudrytski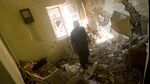 Shelling in Ukraine's war-torn east damped optimism from President Petro Poroshenko that a sustained pause in hostilities between the military and pro-Russian separatists would trigger a pull-back of heavy weaponry.
Two soldiers died and six were wounded in the last 24 hours as rebels continue to break a month-long cease-fire, military spokesman Volodymyr Polovyi told reporters today in Kiev. One civilian was killed in Donetsk, according to the city council, which said today in a website statement that fighting could be heard through the night.
"We must hold on for 24 hours without a single artillery shot being fired," Poroshenko said yesterday, the Interfax news service reported. He said he's "guardedly optimistic" that this will happen today or tomorrow.
While a cease-fire signed Sept. 5 has eased the bloodshed in Ukraine's easternmost regions, violence has continued on a smaller scale. The conflict has killed at least 3,627 people and wounded 8,446, the United Nations estimates. Russia denies U.S., European and Ukrainian allegations that it's supplying arms to the rebels and has deployed troops, tanks and artillery in the Donetsk and Luhansk regions.
Airport Raids
At least 18 people, including rebels, Ukrainian soldiers and civilians were killed yesterday as separatists focused their attacks on the Donetsk airport. Twelve rebels died during repeated attempts to storm the airport, military spokesman Andriy Lysenko told reporters yesterday. Two Ukrainian soldiers were also killed, he said.
At least 12 people, including a soldier, two policemen and nine civilians, have been wounded in fighting in the Luhansk region since yesterday, regional Governor Hennadiy Moskal said today on his website.
An international commission representing Ukraine, Russia and the Organization for Security and Cooperation in Europe started work in the port of Mariupol yesterday. Its main task is to set up the boundaries of a 30-kilometer-wide demilitarized area, according to Lysenko, who said fighting stopped monitors from beginning work elsewhere in the area.
The buffer zone, which will span 320 kilometers (200 miles) from Russia's eastern border to the town of Novoazovsk on the Azov Sea, should also include the Donetsk airport and other locations still subject to fighting, Andrei Kelin, Russia's permanent representative to the OSCE, told Rossiya 24 TV Oct. 3. The exact borders of the buffer zone are being determined, while its implementation should include a pullback of heavy artillery and patrolling of the area, Kelin said.
German Convoy
The fighting has cut off power and water supplies to many residents of eastern Ukraine. A German humanitarian aid convoy of 100 trucks is heading to the nation and should reach it next week, Der Spiegel reported yesterday on its website. Russia has sent aid convoys in the past, though without Ukraine's consent.
Germany has advocated keeping sanctions on Russia. A European Union envoy said Russia may face further measures should separatists seize more land in the battle-torn region.
"The EU wants sanctions to be lifted; however, I do not exclude that if things deteriorate significantly, the EU might be forced to come back and consider sanctions," Vygaudas Usackas, the EU's ambassador in Moscow, said in an interview on Oct. 3. "We have not reached the end of the possible measures."
Russian President Vladimir Putin, who said he supports the peace efforts, has shrugged off U.S. and EU penalties as "idiocy" that harm the global economy and won't sway his policies. The restrictions have driven Russia's slowing economy to the brink of a recession.
A week after the cease-fire started, the 28-member EU stiffened punishment against Russia in a coordinated move with the U.S. and has since decided to leave the measures in place. A further review is scheduled toward the end of this month after EU foreign ministers meet Oct. 20. Its outcome will depend on the implementation of the truce, according to Usackas.
Before it's here, it's on the Bloomberg Terminal.
LEARN MORE