RadioShack to Refinance $535 Million Credit Line
Beth Jinks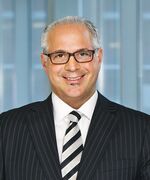 RadioShack Corp., the electronics chain trying to stave off bankruptcy, agreed with a group led by Standard General LP to refinance a $535 million credit facility to help it restock inventory before the holidays.
Standard General, a New York-based hedge fund, led a group of lenders that acquired the asset-backed revolving credit line from General Electric Co.'s lending arm and agreed to loosen its borrowing terms, Fort Worth, Texas-based RadioShack said yesterday in a statement. Standard General and Litespeed Management LLC also agreed to provide $120 million to cash collateralize letters of credit for the company. The retailer said it expects those funds to be converted into equity later.
The moves, some of which Bloomberg reported before the company's announcement, may provide RadioShack with enough of a financial cushion to last through the crucial year-end shopping season. RadioShack has posted 10 straight quarters of losses, hurt by competition from e-commerce sites and discount retailers.
RadioShack's $324.8 million face value of 6.75 percent unsecured bonds due in May 2019 jumped 7.7 cents on the dollar to 41.8 cents yesterday, according to Trace, the bond-price reporting system of the Financial Industry Regulatory Authority.
Standard General said in a filing last month that it was working to improve RadioShack's liquidity ahead of the holiday season. The fund, RadioShack's largest investor, also entered into a standstill agreement lasting until June 2015 that prevents it from taking over the board or proposing an acquisition or restructuring without RadioShack's consent.
Rights Offering
If the $120 million is converted to equity, Standard General will be able to name four directors to the retailer's board. RadioShack's chief executive officer and two independent directors selected by the company also would sit on the board.
Existing shareholders would own 20 percent of the company's shares if none of them purchase stock in a rights offering that is part of the aid package. Any entity acquiring shares in the offering would have its voting rights limited to about 35 percent of the stock.
The refinancing gives RadioShack access to more cash and greater flexibility, since the current debt agreement restricts how much money it can draw from the revolver, according to a Dec. 13 filing with the U.S. Securities and Exchange Commission. It also may provide the retailer with enough leeway to close a larger number of underperforming stores, helping the company consume less cash.
RadioShack creditors blocked a plan earlier this year to shut 1,100 stores, forcing the retailer to limit the closings to as many as 200.
Standard General
Standard General emerged as a potential savior for the retailer in August, when Bloomberg reported that the hedge fund was in financing talks. The firm previously orchestrated a lifeline for American Apparel Inc., another troubled retailer.
RadioShack CEO Joe Magnacca has been remodeling stores and revamping its product lineup in a bid to revive sales. The former Walgreen Co. executive, who took over last year, brought in a new leadership team and has outlined what he calls the "five pillars" of a turnaround, including boosting efficiency and repositioning its brand.
So far, the plan hasn't reversed RadioShack's decline. Comparable-store sales -- considered a key gauge of performance -- fell about 20 percent last quarter. The 93-year-old company has only reported one quarter of positive same-store sales in the past three years.
Cash Woes
RadioShack said last month that it has liquidity of $182.5 million, including $30.5 million in cash. Without reaching a financing agreement, "we may not have enough cash and working capital to fund our operations beyond the very near term, which raises substantial doubt about our ability to continue as a going concern," the company said.
For the refinancing, RadioShack was advised by Peter J. Solomon Co. and its legal counsel was Jones Day. The adviser for the company's board was Lazard Freres & Co. Debevoise & Plimpton LLP was Standard General's legal counsel, and Blank Rome LLP advised the credit line investors.
RadioShack shares have mostly traded under $1 in recent months, prompting the New York Stock Exchange to notify the company in July that it was out of compliance with trading requirements. At least two analysts set $0 price targets on the stock.
RadioShack began in 1921 as a mail-order retailer in Boston that catered to amateur ham-radio operators and maritime communications officers. It expanded into a wider range of electronics, and by the 1980s was once seen as a destination for personal computers, gadgets and components that were hard to find elsewhere. In recent years, competition from Wal-Mart and an army of e-commerce sellers has hurt customer traffic.
Before it's here, it's on the Bloomberg Terminal.
LEARN MORE