Leung Sets Deadline to Open Barricaded Hong Kong Offices
Alfred Liu and Mehul Srivastava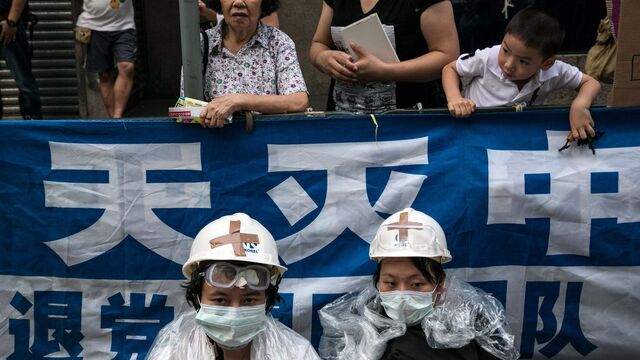 Hong Kong Chief Executive Leung Chun-ying set a Monday deadline for opening access to government offices barricaded this week by pro-democracy protesters, raising the possibility of further clashes.
In an address aired on local television Saturday evening, Leung said the government and police had the "responsibility and determination to take any necessary action" to restore order. "The most immediate thing: on Monday, entrances of government headquarters must be clear," he said.
Student protesters seeking direct elections free from limits set by China's central government have obstructed roads for more than a week, paralyzing much of central Hong Kong and forcing schools, stores and government offices to close. Attempts to disperse crowds on Sept. 28 with tear gas and pepper spray spurred support for the protesters, who saw their ranks swell to 200,000 by one student leader's estimate.
Talks agreed to by both sides on Oct. 2 were shelved by the students yesterday after protesters in Hong Kong's Mong Kok district were attacked by hundreds of men opposing the demonstrations. Police arrested 20 people, including eight with suspected ties to the city's triad gangs.
In his address, Leung said the government "strongly condemns" the violence in Mong Kok. If "the incident develops further, it is very possible that the situation will continue to be out of control, harming public safety and social order," he said.
More Arrests
The city braced for more violence in Mong Kok tonight. Police believe groups opposed to the pro-democracy protests plan more disruptions today, according to a person with direct knowledge of the matter who asked not to be identified because he's not authorized to speak to the media.
Anti-triad teams are pursuing more people involved in yesterday's attacks on demonstrators and the police will have a stronger presence in Mong Kok and Causeway Bay than last night, the person said.
Three more people were arrested today, including one for assault and two for sexual assault, according to a police spokeswoman.
Sporadic clashes erupted throughout the day between pro-democracy protesters and those who say their occupation of some of the city's busiest shopping areas have hurt local businesses and hampered transportation.
Hong Kong television broadcasts today showed people, including elderly men and women, trying to remove barricades set up by the protesters in Mong Kok. In Causeway Bay, passers-by shouted abuse at the demonstrators.
'No Fear'
The protests are "high risk" and members of the public should stay away, Assistant Police Commissioner Cheung Tak-keung said at a press briefing today.
Across Victoria Harbor from Mong Kok, at the protest stronghold of Admiralty, student leaders called for supporters to mass at 8 p.m. Alex Chow, the secretary general of the Hong Kong Federation of Students, led the crowd there in chants of "No fear" and "Fight for democracy" in the afternoon.
The battle isn't over, he said of the protests triggered by China's decision that candidates for chief executive in the 2017 elections be vetted by a committee. Pro-democracy groups say that will guarantee the candidates' obedience to China.
Student leaders yesterday accused Hong Kong authorities of betraying their trust by allowing organized violence against them, prompting their decision to shelve talks with the government.
"The situation is very volatile, and I am not sure what happens next," said lawmaker Regina Ip, a former secretary for security. She wants an emergency meeting with the government on starting a dialog with the students, she said.
Before it's here, it's on the Bloomberg Terminal.
LEARN MORE