Job Growth Stays Strong, but Wages Won't Budge
By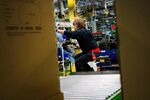 The U.S. economy added nearly 250,000 new jobs in September, well above expectations, and the unemployment rate fell below 6 percent for the first time since July 2008, evidence the U.S. economy is continuing to improve. The strong employment data come a month after a relatively weak jobs number of 142,000 in August, which stoked fears that the pace of hiring was losing momentum. That number was revised up to 180,000; July's number was also revised from 212,000 to 243,000, boosting the economy's average rate of job creation this year to 226,000 a month, the fastest growth since 1997. Over the past 12 months, the U.S. has added 2.6 million new jobs.

There are still 9.3 million people looking for work, but that's down from more than 11 million people a year ago, and a peak of 15 million back in 2010. A lot of that decline has been the result of people dropping out of the job market, either retiring or just giving up. Last month, another 97,000 people left the labor force, pushing the participation rate down another 0.1 percentage points to 62.7 percent, the lowest since Jimmy Carter was president in November 1977.
Many feel the truer measure of unemployment is the U-6 number, which captures people marginally attached to the workforce and those who are not actively seeking work. That number fell to 11.8 percent in September, and is down from 13.6 percent a year ago.
Though the job gains have been impressive so far in 2014, wage gains have been stuck at around 2 percent, just above the pace of inflation. That held steady in September, with hourly earnings for all employees on private payrolls staying flat at $24.53 an hour. The lack of wage growth in the face of such strong job creation indicates there are still plenty of people looking for work, which undercuts current employees' ability to demand raises.
Among the sectors that added jobs in September, construction posted a solid month, with 16,000 new jobs added. Manufacturers added 4,000 new jobs, while white-collar professional and business services added 81,000 new jobs. The federal government continued to shed workers, while state government payrolls jumped by 22,000. For the first time since the recession began, men now have a lower unemployment rate (5.9 percent) than women (6.0 percent).
Before it's here, it's on the Bloomberg Terminal.
LEARN MORE