Turkey's Fighting Words About Islamic State
Piotr Zalewski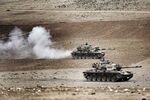 The Turkish tanks, each parked behind a large mound of earth, pointed their turrets toward the border, less than a mile away, where Islamic State, since Sept. 19, has been besieging the town of Ayn al-Arab—or Kobane, as the ethnic Kurds who live there call it. Inside a medical tent by the Yumurtalik border gate, two boys, both in their early teens from Syria, lay naked on a blue gurney, their bodies covered with shrapnel wounds. They had walked into a minefield, they said, as they tried to make it across into Turkey.
Nearby, a woman stood beside a small hill of carpets and bags, a purple head scarf wrapped around her entire face to protect her from the wind and the desert sands. She and her family made for the border more than a week ago, she said, after they saw the black Islamic State flag hoisted in a neighboring village and heard the shelling approach. "They bombed our houses with tanks and artillery," she says. "My cousin was shot. They beheaded my neighbor."
The air above Kobane has begun to shake regularly with the sound of artillery fire. Stray shells have also begun to rain down on the Turkish side of the border. On Sept. 27, one hit a minibus. The next day, another one hit a house. A total of five people were reported wounded. In line with its rules of engagement, the Turkish army responded with several mortar rounds. On Oct. 2, Turkey's parliament gave the government of Prime Minister Ahmet Davutoglu the green light to deploy troops in Iraq and Syria. On Thursday, Davutoglu pledged to do what it takes to save Kobane. "We wouldn't want Kobane to fall," he said in televised remarks. "We'll do whatever we can to prevent this from happening."
Air strikes by the U.S.-led coalition around Kobane have not stopped the jihadists' advance, according to leaders of the YPG, the Kurdish militia defending the town. On Friday, Oct. 3, amid fresh coalition bombing, Islamic State forces were within a few hundred meters of Kobane, pummeling the city with artillery fire from the west, east, and south.
Is Turkey finally going to join the fight against Islamic State? Not too long ago, Davutoglu would not be pinned down on whether Islamic State was a terrorist group. Since the middle of September, after the jihadists released 46 Turkish hostages captured during the fall of Mosul in June, he and other top politicians have changed their tone. Last week, President Recep Tayyip Erdogan came out in support of U.S. and Arab airstrikes against Islamic State, at one point going so far as to call for boots on the ground. "You can't destroy a terrorist organization with air strikes," he said in comments published on Saturday. "When there are no ground troops, nothing can be permanent." He insisted, however, that any intervention that targets Islamic State should be part of a larger effort to overthrow Bashar al-Assad's Syrian regime. The fighting has already sent 150,000 Syrians fleeing into Turkey to join roughly 1.5 million refugees from the country already in camps there. Accommodating them has cost the Turkish government more than $3.5 billion.
Technically, the Turkish government has had parliamentary authority to go into Iraq and Syria for years, as part of its prolonged war with the Kurdistan Workers' Party (PKK), a Kurdish group based in the mountains of northern Iraq. The new mandate means only that an operation against Islamic State is now possible, not imminent, says Aaron Stein, an associate fellow at London's Royal United Services Institute. "Rhetorically, Turkey has done a U-turn," he says. "But policywise, I don't see any change at all."
With Islamic State closing in on Kobane, Turkey is coming under considerable pressure, not least from its own sizable Kurdish minority, to ramp up its fight against the jihadists. Kurdish leaders warn that failure to save Kobane will derail attempts to achieve peace between the government and the PKK. "If this massacre attempt [in Kobane by Islamic State] achieves its goal, it will end the process," Abdullah Ocalan, the PKK's jailed leader, said in a statement released Oct. 1. In March 2013, he had declared a ceasefire with the government and pressed for a political solution to the decades-long conflict.
It's not only Turkey's ethnic Kurds who support a more active role for Turkey in the U.S.-led coalition. In a poll published at the end of September, 52 percent of Turks said they favored armed action against Islamic State, vs. 29.9 percent who thought otherwise. The Kurds themselves are not asking for Turkish troops or for any kind of armed intervention but for heavy arms to stave off the Islamic State onslaught. Selahattin Demirtas, a Kurdish politician who came in third in Turkey's recent presidential elections, called for the government to set up an arms corridor to Kobane.
The prime minister, however, is uneasy about weapon shipments to the YPG, which Turkey considers a PKK offshoot. But Demirtas said Davutoglu should weigh the consequences of inaction. "If there's a massacre in Kobane," Demirtas said on Oct. 1, "or if Islamic State raises its flag on the border, is that a better outcome for Turkey?"
For months, Turkey has avoided dealing with its dilemma: how to balance one enemy, Islamic State, against another, the militant Kurds. "It's one of the trickiest foreign policy decisions it is ever going to make," says Stein. "They seem to be kicking the can down the road, hoping that eventually U.S. airstrikes will bail them out of this mess."
Before it's here, it's on the Bloomberg Terminal.
LEARN MORE