Students and Teachers Battle Conservatives Over AP History Curriculum
By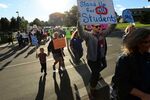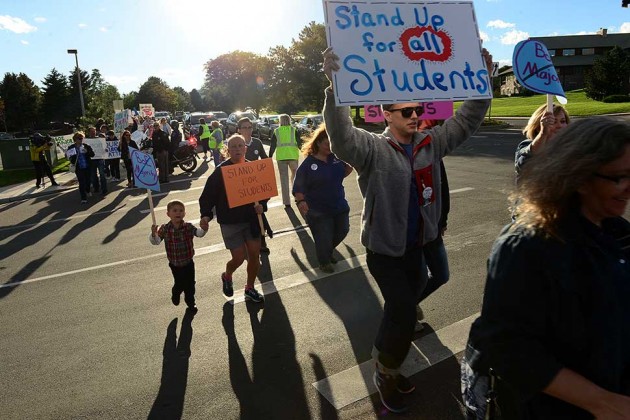 Over the past two weeks, hundreds of students and teachers have mounted walkouts at middle schools and high schools in Jefferson County, Colo. Their cause? Defending new guidelines for teaching the national Advanced Placement American history course.
Those guidelines—recently released by the College Board, the nonprofit that administers Advanced Placement tests nationally—include such statements as "The emergence of an industrial culture in the United States led to both greater opportunities for, and restrictions on, immigrants, minorities, and women." The authors of the new curriculum say it was designed to equip students better "to carefully compare and contrast the views of leading historians, to debate and discuss historical issues, and to write analytical essays."
Conservative groups nationwide have lined up to oppose the changes. The Republican National Committee passed a resolution slamming the new guidelines' "consistently negative view of American history." The Texas Education Agency approved language prioritizing its own standards over the College Board's. This week, conservative neurosurgeon Ben Carson said "most people, when they finish that course, they'd be ready to go sign up for ISIS," the Islamic State terrorist group.
Last month, Julie Williams, a school board member in Jefferson County, just outside Denver, proposed instituting a curriculum review committee to ensure that the AP History classes (as well as elementary school health classes) would "promote citizenship, patriotism, essentials and benefits of the free-market system, respect for authority and respect for individual rights," and wouldn't "encourage or condone civil disorder, social strife or disregard of the law."
On Thursday night, the county school board's conservative majority approved a compromise revamping the existing curriculum review process; the original, controversial language from Williams' proposal was dropped. "I'm not saying, 'Let's not teach history accurately,'" Williams told Denver's NBC affiliate. "What I'm saying is, let's not encourage our children to disobey the law."
Critics say that approach smacks of censorship. "Who will I be able to talk about?" Stephanie Rossi, an AP History teacher and vice president of the local teacher union, asked Thursday. "America's history is full of civil disorder. … Who is going to decide who are the acceptable civil disobedients, and who is on the unacceptable list?"
School Board President Ken Witt says that he's "delighted to see our students engaged in civil dialogue" but that the lost class time was a problem and the censorship fears were "certainly misguided." "There was certainly no proposal for censorship," says Witt.
Before it's here, it's on the Bloomberg Terminal.
LEARN MORE