Obama's Business School Bid to Win Back Young Adults
By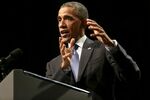 The refrain from President Barack Obama's speech on the economy on Thursday was clear: "Let's do this." The unemployment rate is down. Private payrolls are expanding. The U.S. economy "isn't just primed for steadier, more sustained growth—America is better poised to lead and succeed in the 21st century than any other nation on earth," said Obama, who addressed a crowd gathered at Northwestern University's Kellogg School of Management.
The applause poured in steadily with each declaration. Yet not everyone was sold on Obama's vision. Hours before the speech, a crowd of students and community members had gathered on campus to express a quite different sentiment, according to the Daily Northwestern. "I paid thousands for a useless degree #Obamaeconomy," one sign reportedly read. "Debt = generational theft," said another. Still another, with a picture of a newborn, read: "How does this baby owe $39K in national debt?"
The protesters' frustration underpinned the delicate line Obama has been walking—claiming credit for the broader economy's gains while reassuring voters, particularly young adults, that he recognizes the difficulties middle-income and low-income America has faced. While the stock market soared to new heights this year, average hourly earnings in August rose only 0.4 percent from a year ago. Student debt in the U.S. has ballooned to more than $1 trillion. Yes, the economy has grown—but the benefits of that recovery have not yet been shared broadly, Obama said in his speech.


"It is … indisputable that millions of Americans don't yet feel enough of the benefits of a growing economy where it matters most, and that's in their own lives," Obama said. "It's still harder than it should be to pay the bills and put away some money."
Young adults have been particularly frustrated with the president lately. Although they were once his greatest supporters, Obama's approval rate among adults aged 18 to 29 has slumped to an all-time low of 43 percent, according to a Washington Post-ABC News poll. Many in that age group entered the job market at a time when it was shedding, not creating jobs. In his speech at Northwestern, Obama tried to convey his empathy for their plight. He sees young families struggling to buy their first homes; he sees them struggling to climb up the ladder, he said.
Forecasts by both the New York Times and FiveThirtyEight suggest Republicans will take control of the Senate in the next elections. While Obama will not be on the ballot, his popularity could affect the fate of his Democratic Party peers. At Kellogg, he made his case for building a brighter future for young professionals.
"If we make it easier for students to pay off their college loans, we'll help a whole lot of people breathe easier and take the jobs they want," Obama said, triggering another wave of applause. "Let's make sure young people at every level have a shot at success just like folks at Northwestern do."
Before it's here, it's on the Bloomberg Terminal.
LEARN MORE