Parting Words of Ferrari Chief Montezemolo: 'Life Is Strange. It's Important to Look Ahead'
by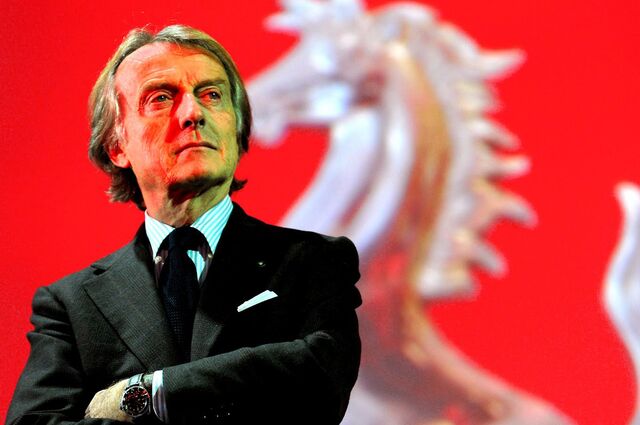 Yesterday at the Paris Motor Show Ferrari unveiled the 458 Speciale A. The 597-hp spider is its most powerful car ever, and the final model of its five-year-old 458 line.
It's also the last car to leave the company under the auspices of Luca di Montezemolo, who has led it for the past 23 years. During his tenure Ferrari won eight Constructors' World Championships, and team driver Michael Schumacher dominated at Scuderia, winning five consecutive World Championships between 2000 and 2004.
In recent years the racing brand has faltered. The team hasn't won a Formula One title since 2008.
"We've not been as successful as we wanted to be, but there are always ups and downs, and now is the time for us to be going up again," Montezemolo, 67, told reporters at the show. "When I go to Monza, and I see the first six cars on the grid are not Ferrari, my blood pressure pops."
Fiat SpA. (F) head Sergio Marchionne, who was also in attendance, said the priority to win again at F1 is 'non-negotiable.' He also strongly refuted reports that Montezemolo was resigning over disagreements about how exclusive Ferrari should be, the brand's profitability, and the poor performance of the F1 team.
"There is not a single doubt in my mind that his departure is not as glorious as you can make it," he said. "Luca has had a phenomenally impressive career. Wherever you're hearing those whispers, that's absolute bulls---. Whatever radio station you're listening to, change the station."
Montezemolo, in his famously enigmatic way, ducked questions about his specific reason for leaving. ("Life is strange. Life makes surprises. It's important for us to look ahead.")
Full Remarks
I am pleased to close my long -- and for me fantastic -- career with a fantastic company like Ferrari, that apart from my family has been the most important part of my life in the past 23 years.

I'm pleased to close my career with an historic record this year in terms of economic results. We think that we can do more than 400 million as operating results. We will sell around 5% more cars than the previous year mainly due to the LaFerrari. Best of all, we will close the year with a generation of cash important for our shareholders of 1 billion and 500 million. So I think these are really important numbers at least for a company like Ferrari despite very strong investments in product.
We present here a car that is a special series of 99 cars ready for our clients that represent the end of the 458 era. It's the best performing Ferrari spider ever made. From 0 to 100 km in three seconds. A great car in terms of power -- but even more important -- we have powered it in terms of CO2 low emission and consumption. It is important.
458 has been for us a very important family, very successful in every single class. This car, in particular, is full of decoration and technology and I think is the best way to celebrate the last 458 family member. Because la Speciale is the last of Mr. Marchionne, and is a member of the family of the 458 -- the last one.
We are developing a new 458 that I'm sure we will be ready to present before next summer. And this again is the end of a very important era. We have already received a lot of requests for this car. Just to give you an example, this morning I received four [comments] from people, "I've seen the car on the Internet. I know that it's 99, so please hold one for me."
But again, this year has been good for every model. FF is doing very well particularly in North America, Canada, Germany, and Switzerland, which is very important. We are doing very well with the Speciale, the 458. So again we are in line with our goals and we will close the year with more or less 7,200 cars.
What can I say? I can say again that this is my last motor show. I remember a lot of them in the past. Because in the last 20 years, thanks to our group, we have been able to present one new model every single year, and sometimes even more than one model, We have presented also a special version of some models. So we are being very actively investing in technology products, and this time we have a lot of innovation. So I think this car will be big for us.
Now in one week, this coming week, will be my latest week working in Marello. And then there is a big appointment: I will leave my seat my job to Sergio because we are in front of a historic moment with our group which is the importation the transfer to Wall Street October 13.
And we are proud that Ferrari will be a very important member of the group. I am sure that Ferrari will not fail on the characteristics on which we are drawn for the last 20 years, and a lot of people before us. And I'm sure that there are a lot of ideas for the future -- models, technology.
Even if the markets have become difficult -- you can see what is going on in Hong Kong, Germany, it's not growing as in the past. Europe more or less is not in the best moment. That's it, that's it.
Marchionne will succeed Montezemolo when the company joins Fiat in its first Wall Street listing Oct. 13.
Before it's here, it's on the Bloomberg Terminal.
LEARN MORE