Is Beijing's Most Successful Effort at 'Soft Power' About to Unravel?
Christina Larson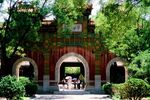 In the past few years, Confucius Institutes—teaching facilities for Chinese language and culture linked to foreign universities and paid for by the Chinese government—have multiplied worldwide like "mushrooms after rain," as the Chinese saying goes. Since Beijing launched the program a decade ago, 465 Confucius Institutes have been established worldwide, employing thousands of teachers, both local hires and recruits from China.
Beijing sees the Confucius Institutes as a way to promote its own soft power overseas, similar to the British Council or Germany's Goethe-Institut. (The term "soft power," coined by Harvard professor Joseph Nye, refers to the ability of a country to co-opt, rather than coerce, others into doing its bidding.) Foreign universities, including in the U.S., have generally proved willing partners, eager for both funding and a source of Mandarin teachers.
Yet recently, criticism has come hard and fast. The institutes have been slammed for the restrictive contracts teachers have to sign, for their lack of political discussion, and for the pressure it's feared they may put on their partners to discourage "anti-China" activities or studies. Jeffrey Wasserstrom, a Chancellor's Professor of Chinese History at the University of California Irvine, wrote recently in the Asia Society's online magazine, ChinaFile, "I have misgivings about Confucius Institutes and hope U.C. Irvine never gets one."
Some Chinese educators also have harsh words for the institutes. "Their teaching methods are so out of date," one experienced teacher, working at a private school in Shanghai, said. "And they send third-rate teachers, who have ties to officials, because working in the U.S. is seen as a cushy gig."
In recent weeks, two prominent U.S. universities have suspended their affiliated Confucius Institutes. Following the submission of a petition signed by more than 100 faculty members asking the University of Chicago to close its Confucius Institute, the school administration announced on Sept. 25 that it was "suspend[ing] negotiations" on renewing the institute's agreement for a second term, according to a statement. Pennsylvania State University also decided not to renew its contract to host a Confucius Institute. "Several of our goals are not consistent with those of the Office of Chinese Languages Council International, known as the Hanban, which provides support to Confucius Institutes throughout the world," Dean Susan Welch wrote in a statement provided to the trade publication Inside Higher Ed.
The U.S. universities aren't the first ones to sever ties. McMaster University in Hamilton, Ontario, announced in 2012 it would close its Confucius institute, while Toronto's school board voted in early October to cut all links to institute programs.
There was a time when Confucius himself was persona non grata in China, reviled as a symbol of a "feudal" past. In central Beijing, the medieval Confucian Temple, where the names of great students and scholars of the past were recorded, was shuttered during the Cultural Revolution (1966-76). In recent years, however, Presidents Hu Jintao and Xi Jinping have rehabilitated Confucius's reputation, invoking the old sage as a symbol of China's enduring civilization and values.
Before it's here, it's on the Bloomberg Terminal.
LEARN MORE