John Lewis MD Apologizes for Saying France Is 'Finished'
James Boxell and Gabi Thesing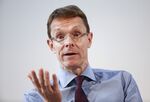 John Lewis Managing Director Andy Street apologized "unreservedly" for criticizing France when he said this week that the country is "finished" and U.K. investors should "get out quickly."
"The remarks I made were supposed to be lighthearted views, and tongue in cheek," the executive of the London-based retailer said in an e-mailed statement today. "On reflection I clearly went too far. I regret the comments."
Lewis had said that France is "sclerotic, hopeless and downbeat" in a speech at an awards dinner in London's Canary Wharf district this week. "I have never been to a country more ill at ease," he said. "Nothing works and worse, nobody cares." The Gare du Nord station in Paris is "the squalor pit of Europe" compared with the "modern, forward-looking station" at St Pancras in London.
The comments from the executive of London-based John Lewis Partnership Plc, which runs a fast-growing chain of department stores and upmarket food shop Waitrose, follow a tradition of France-baiting in Britain. Prime Minister David Cameron offered to "roll out the red carpet" for French businessmen and women when France raised taxes on the wealthy two years ago.
The French embassy rejected Lewis's criticisms, telling The Times newspaper, which first reported the speech, that the nation enjoys "world-class" public services, cheap transport, and is the "country with the fifth-largest stock of foreign direct investment in the world."
c
Before it's here, it's on the Bloomberg Terminal.
LEARN MORE