Critic of Hong Kong's Umbrella Revolution Waits for a Backlash
By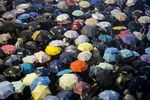 Hong Kong's Umbrella Revolution is winning fans worldwide. In addition to supporting the student-led movement's call for democracy in Hong Kong, admirers like the way the civil disobedience movement is so well behaved, with young people picking up litter and doing their homework. Slate calls them "the world's politest protesters."
Robert Chow sees things differently. A retired journalist, he is the spokesman for two groups opposed to the occupation of major parts of the city: Silent Majority for Hong Kong and the Alliance for Peace & Democracy, an umbrella group (although that term suddenly has a different meaning in Hong Kong) that includes Silent Majority as well as the leading pro-Beijing political party and several chambers of commerce among its members. With many schools shut, key thoroughfares blocked, and some shops closed, Hong Kong is going to see a backlash, he argues. "People are peeved off by the whole thing," Chow says. "It's really like a hostage situation."
Although some businesses are suffering, there's not much evidence of that anger yet in the streets of Central and other areas occupied by the pro-democracy protests. But just wait, says Chow. "If it goes on for one week, two weeks, people are really going to feel the pain."
In August, the alliance organized a march to protest Occupy Central's plans. Organizers said 193,000 people took part, although the University of Hong Kong's Public Opinion Program estimated attendance at 88,000. There was also a petition drive that Chow says collected 1.5 million signatures.
Yet now that the occupation is under way, he's not making any plans to rally all those people to launch an Umbrella Counterrevolution. "Confrontation at this moment is going to be bad for Hong Kong," says Chow. "We want people to come to their senses." The best strategy might be patience, according to Chow, and to wait for people to want life in the city to return to normal. His advice to Chief Executive Leung Chun-ying: "Just hang on. It may be the best tactic."
That strategy got some help from the heavens on Friday. Since the Umbrella Revolution began last week, the weather has been mostly hot and sunny. This afternoon, more than 20 mm of rain fell in one hour in Central, and the Hong Kong Observatory issued a thunderstorm warning, cautioning that gusts could reach 70 km per hour or higher. In a storm like that, all those umbrellas among the protesters wouldn't be of much use. The observatory's advice: "Stay indoors."
Many protesters took that advice, with the crowds significantly smaller today. The Hong Kong government and its supporters have another reason to be hopeful. The forecast for Saturday calls for more rain.
Before it's here, it's on the Bloomberg Terminal.
LEARN MORE